News > Nation/World
EU rejects bailout for east Europe
Hungary's premier warns against 'a new Iron Curtain'
Mon., March 2, 2009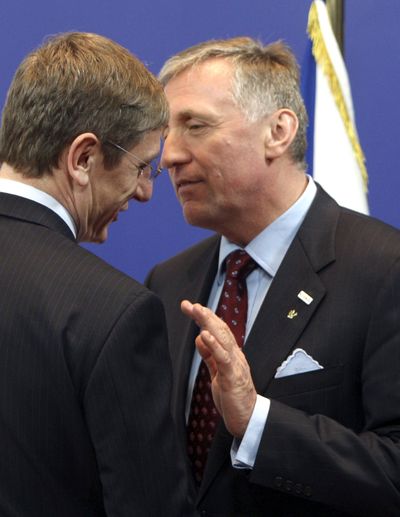 BERLIN – European leaders Sunday rejected a Hungarian plea for a $240 billion bailout of struggling Eastern European countries, as divisions continued to fester over how to prevent economic ills from spreading across the continent.
Germany, Europe's largest economy, led opposition to the Hungarian proposal. German Chancellor Angela Merkel said a broad, regional rescue plan was ill-conceived, though she did not offer specific alternatives.
"Saying that the situation is the same for all Central and Eastern European states, I don't see that," she said Sunday after a European Union summit in Brussels. "You cannot compare Slovenia or Slovakia with Hungary."
Several Eastern European countries have been slammed by currency devaluations and other economic ailments in recent months, as global investors have warned that the region is ripe for a financial meltdown.
Hungary and Latvia have already received bailouts from the International Monetary Fund, and Romania has said it may ask for one. The EU, as well as the World Bank and other financial institutions, has also approved aid, but national leaders say much more is needed.
Hungary's prime minister, Ferenc Gyurcsany, had proposed the massive rescue fund for Eastern Europe last week. On Sunday, he warned that old conflicts could re-emerge and that "large-scale defaults" would result if the EU did not come to the aid of its newest members, who have spent the past two decades trying to recover from communism.
"We should not allow a new Iron Curtain to be set up and divide Europe into two parts," Gyurcsany told reporters in Brussels, prior to the start of the summit. "This is the biggest challenge for Europe in the last 20 years."
Eastern European officials said they were frustrated that few of them have been included in talks with the United States, China, Japan and Western European countries over how to respond to the global economic crisis.
"None of those people around the table are actually from a country that is in the catching-up period in the EU," Mikolaj Dowgielewicz, Poland's European affairs minister, said Sunday, referring to the time since the collapse of communism two decades ago. "You have lots of old member states. There is certainly an issue here."
Several Eastern European countries also want the EU to make it easier for them to replace their unstable currencies — such as the Polish zloty and the Hungarian forint — with the euro. Germany, France and other Western countries have insisted the new members follow a strict, gradual path into the euro club that limits deficit spending. The recession, however, has made the rules more painful to follow.
At the same time, Eastern European leaders have been squabbling among themselves, with officials from relatively healthy economies taking pains to distance themselves from their weaker neighbors.
Poland and the Czech Republic, for instance, also frowned on the Hungarian bailout proposal, saying they did not need to be rescued and did not appreciate being lumped together. "When it comes to any specific plans for Eastern Europe, we don't need those plans," Dowgielewicz told reporters.
Local journalism is essential.
Give directly to The Spokesman-Review's Northwest Passages community forums series -- which helps to offset the costs of several reporter and editor positions at the newspaper -- by using the easy options below. Gifts processed in this system are not tax deductible, but are predominately used to help meet the local financial requirements needed to receive national matching-grant funds.
Subscribe to the Coronavirus newsletter
Get the day's latest Coronavirus news delivered to your inbox by subscribing to our newsletter.
---