News > Features
The past helped push Streisand
Tue., March 3, 2009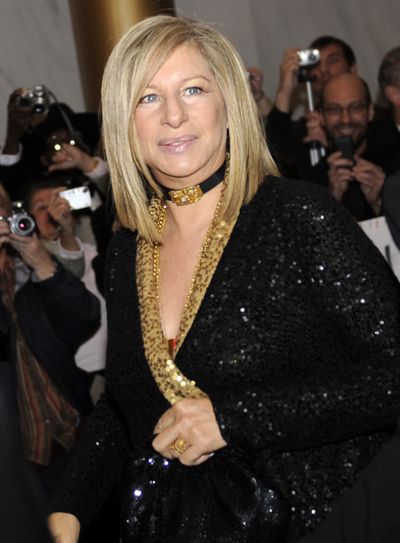 It was a challenge that Barbra Streisand wasn't sure she could handle.
Although she made her directorial debut with 1983's "Yentl" – the musical drama about a young Jewish woman who disguises herself as a man – she was wary of taking on filmmaker duties for the cinematic adaptation of Isaac Bashevis Singer's short story.
She even went as far as to have conversations with other directors about helming the project, including French director Claude Berri, who had made one of Streisand's favorite films, "The Two of Us," a touching drama about the friendship that develops between a Gentile and a young Jewish boy during World War II.
"I was frightened to do it myself," Streisand, 66, recently said. "But I had a vision of it. I was looking for a sign whether or not to direct it."
She found the inspiration at her father's grave. Emanuel Streisand, who was a scholar and teacher, had died when she was just 15 months old.
"I had never been to my father's grave – isn't that interesting? – until I was 39 years old," Streisand said.
"I never had a picture with my father," she said. "When I came home my brother sent me the picture of my arm around the tombstone. And I think it was (producer) Rusty Lemorande who said, 'Oh, my God. Look at the picture.' "
In the photo, the tombstone next to her father's was for a person named "Anshel," the name Yentl takes when she becomes a man.
"That was the sign," Streisand said.
Earlier this month, the two-disc director's cut arrived on DVD. It features a commentary from Streisand and Lemorande, rehearsal footage that Streisand shot in Los Angeles from her own archives, two songs that didn't make the original cut along with the storyboards of the numbers, as well as some deleted scenes.
It also features the 8 mm "concept film" that Streisand shot on location in Europe to sell the movie.
Based on Singer's "Yentl, the Yeshiva Boy," the film revolves around Yentl (Streisand), who lives in Europe at the turn of the 19th century and wants to be a scholar and study the Torah. Women then were not permitted to study, so after the death of her father, she disguises herself as Anshel to make her dream come true.
Problems ensue when she falls in love with a fellow student, Avigdor (Mandy Patinkin), who, in turn, is in love with a beautiful young woman, Hadass (Amy Irving). But her parents won't let him marry her, so Avigdor persuades Yentl to marry her.
After the film was released, Streisand, who co-wrote the script with Jack Rosenthal, became the first woman to win the Golden Globe for best director. The movie went on to win an Oscar for best original score.
Streisand last worked as a director, on 1996's "The Mirror Has Two Faces." But she still hopes to direct the film version of Larry Kramer's AIDS drama, "The Normal Heart."
"I've been working on it since I saw the play in 1985," Streisand said.
The birthday bunch
Actress Hattie Winston is 64. Singer Jennifer Warnes is 62. Singer-guitarist Robyn Hitchcock is 56. Guitarist John Lilley of The Hooters is 55. Actress Miranda Richardson is 51. Rapper Tone-Loc is 43. Actress Julie Bowen is 39. Country singer Brett Warren of The Warren Brothers is 38. Actor David Faustino is 35. Actress Jessica Biel is 27.
Local journalism is essential.
Give directly to The Spokesman-Review's Northwest Passages community forums series -- which helps to offset the costs of several reporter and editor positions at the newspaper -- by using the easy options below. Gifts processed in this system are not tax deductible, but are predominately used to help meet the local financial requirements needed to receive national matching-grant funds.
Subscribe to the Coronavirus newsletter
Get the day's latest Coronavirus news delivered to your inbox by subscribing to our newsletter.
---