Sports
Old hat for Tigers
LC heads to Tacoma for seventh straight year
Wed., March 4, 2009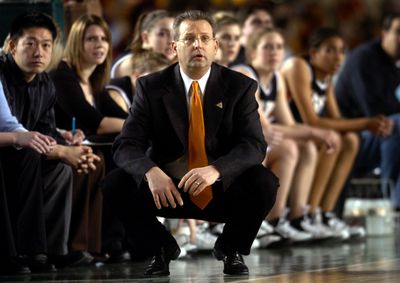 Three straight State 4A basketball championships alone put Lewis and Clark's girls basketball among the storied programs in state annals.
The Tigers' streak of seven straight appearances at the annual tournament in Tacoma places them in company with Greater Spokane League heavyweights Central Valley and Mead, as well as the best of them all, Prairie.
Prairie, now in 3A, is trying to continue a string of appearances that has reached 11 straight years. The Bears qualified eight straight years, between 1997 and 2004 (and 13 trips over 15 seasons), and Mead qualified seven straight from 1990 through 1996.
"It hasn't sunk in yet," LC coach Jim Redmon said. "After it's all over, we'll recognize what we've achieved. When we look back, we'll see there were a ton of special kids responsible for that run. What they've meant to the program is really special and this group is no different."
There was a real danger the top-ranked team in various polls this season, winners of 54 straight games and a potential title contender, wouldn't even make it to state. The Tigers (25-2) lost two of three games during postseason before winning three in a row to make a return to Tacoma.
They play the red-eye special, 8:30 tonight at the Tacoma Dome against Federal Way.
"There was huge pressure from day one for us repeating as champions," Redmon said. "There was the pressure of the streak. But after the losses I don't think one person said anything about pressure."
LC avoided finger pointing and concerned itself with staying together as a team and righting what had been going wrong.
"When you have those kind of difficulties, I think character is exposed," Redmon said. "Some great things came out from the captains and seniors. I think we grew from that."
In 2003, LC lost to Prairie in the opener of its first state trip and then won three straight to finish fifth. The Tigers didn't place in 2004, losing two of three games. The Tigers have since gone 15-1, placing third and winning the past three titles.
This year's version is young with three seniors. Jeneva Anderson (11.9 points per game) and Sarah Kliewer (10.2) are the leading scorers. A third senior, Emily Travis, has scored near double figures in seven playoff games.
Depth has been provided by a blend of veterans and newcomers. Four are juniors, including point guard Daisy Burke and Mary Blevins. Two sophomores and two freshmen made instant impact this year. Eight players have scored 100 or more points.
If the Tigers are to become a four-time champion they'll have to go through the Columbia Basin Big Nine again, or Kentwood, which has been knocking on the door in recent years.
Kentwood's leading scorer, Lindsey Moore, however, injured a hamstring and missed games last weekend.
"We played better last weekend, but … we have a long way to go in order to be where we should be," Redmon said.
The streak is a burden LC has labored under for several years. Pressure is a byproduct of success, Redmon said.
"I think we made our bed and had to get out of it and I think overall the kids did," Redmon said. "If it wouldn't have worked out, they would have picked their heads up and realized they caused their own problems."
But the best news for LC was the players regrouped and the state-qualifying streak continues.
"I feel fortunate to be a part of it," Redmon said. "We've had an unbelievable run."
Local journalism is essential.
Give directly to The Spokesman-Review's Northwest Passages community forums series -- which helps to offset the costs of several reporter and editor positions at the newspaper -- by using the easy options below. Gifts processed in this system are not tax deductible, but are predominately used to help meet the local financial requirements needed to receive national matching-grant funds.
Subscribe to the sports newsletter
Get the day's top sports headlines and breaking news delivered to your inbox by subscribing here.
---