News > Features
Will Drew do some vamping?
Wed., March 11, 2009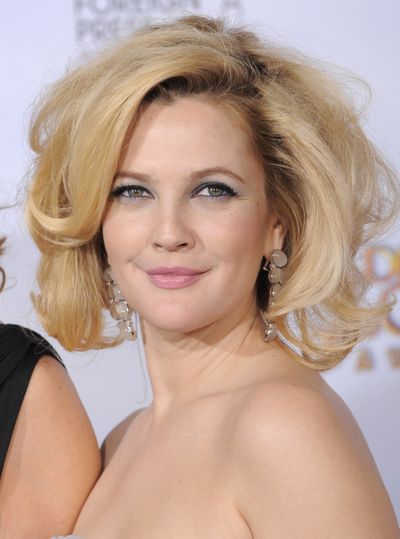 She starred as a buddy to that lovable alien E.T., but does Drew Barrymore have what it takes to direct vampires?
The 34-year-old actress ("E.T.: The Extra-Terrestrial," the "Charlie's Angels" films) has confirmed that she's being considered for "Eclipse," the third movie in the blockbuster teen vamp saga that launched with "Twilight" last year.
"I'm one of the directors that is being talked about, which is great, because I'm a director now," Barrymore said in a recent interview. "But, you know, they'll make their choice."
"Eclipse" is slated for a summer 2010 release.
Chris Weitz ("The Golden Compass") is directing "The Twilight Saga: New Moon," the second film based on Stephenie Meyer's best-selling series. He took over the franchise from "Twilight" director Catherine Hardwicke.
"New Moon" will be in theaters in November.
Barrymore directed "Whip It!" starring Ellen Page ("Juno"), due in theaters this year.
She stars in the upcoming HBO movie "Grey Gardens," co-starring Jessica Lange and Jeanne Tripplehorn.
'O' for Oprah, and Obama
For the first time in its nine-year existence, Oprah Winfrey is sharing the cover of her "O" magazine – with Michelle Obama.
In the April issue, due March 17, Winfrey interviews the first lady about topics ranging from her decorating philosophy to how she hopes she can help other women.
"I know that all I can do is be the best me that I can," Obama says. "Giving back is a big part of that. How am I going to share this experience with the American people? I'm always thinking about that."
No longer in the house
British singer Amy Winehouse has canceled her scheduled appearance at next month's Coachella music festival in California because of her latest legal troubles.
Winehouse was charged with assault last week for allegedly attacking a fan at a London party in September.
Don't self-destruct too soon
Robin Williams has canceled the remainder of his one-man comedy show, "Weapons of Self-Destruction," because of heart problems.
The 57-year-old actor needs an aortic valve replacement, according to a news release issued by his publicist. He canceled four shows in Florida last week after experiencing shortness of breath.
Hey, hey, hope you get well
Peter Tork, a member of the 1960s pop group the Monkees, says he has a rare form of head and neck cancer, but the prognosis is good.
The 67-year-old Tork had surgery last week. His spokeswoman says he is doing well and will begin radiation treatment after a short recovery period.
The birthday bunch
Newsman Sam Donaldson is 75. Singer Bobby McFerrin is 59. Actress Susan Richardson ("Eight is Enough") is 57. Actor Jeffrey Nordling ("24") is 47. Actress Alex Kingston ("ER") is 46. Singer Lisa Loeb is 41. Actor Terrence Howard is 40. Actor Johnny Knoxville is 38. Singers Benji and Joel Madden (Good Charlotte) are 30. Actress Thora Birch ("Ghost World," "American Beauty") is 27.
Local journalism is essential.
Give directly to The Spokesman-Review's Northwest Passages community forums series -- which helps to offset the costs of several reporter and editor positions at the newspaper -- by using the easy options below. Gifts processed in this system are not tax deductible, but are predominately used to help meet the local financial requirements needed to receive national matching-grant funds.
Subscribe to the Coronavirus newsletter
Get the day's latest Coronavirus news delivered to your inbox by subscribing to our newsletter.
---