News > Features
Joint will be jumpin'
Studdard, Davis to star in 'Ain't Misbehavin' '
Fri., March 13, 2009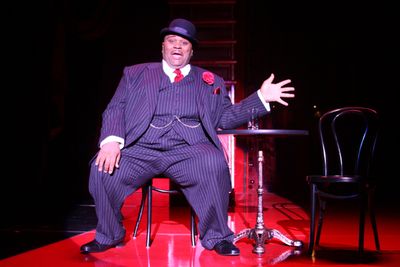 Two stars are coming to Spokane next week for the national tour of "Ain't Misbehavin' ": Ruben Studdard and Frenchie Davis, both of "American Idol" fame.
Yet even Studdard knows who the real star of the show is – Fats Waller, the late, great stride pianist, who strode across the Harlem jazz scene in the 1920s and 1930s.
"Ain't Misbehavin' " is the 1978 Broadway musical smash which pays tribute to Waller and the music of the Harlem Renaissance.
"Fats Waller was just an amazing musician and I am always intrigued by people who are at the top of their game," said Studdard, by phone from the road. "Art Tatum called him one of the most important pianists of all time. And if Art Tatum can say that about somebody – seeing as how Tatum is the most amazing pianist I've heard in my life – that means a lot."
Waller was also a brilliant showman and songwriter, who wrote such standards as "Honeysuckle Rose," "Squeeze Me," "Your Feet's Too Big," "The Joint is Jumpin' " and "Ain't Misbehavin'," all of which you will hear in this show. His output was raucous, raunchy, humorous and loaded with musical invention.
He was one of the original bad boys of music, likely to have a bottle of gin on the piano, a cigarette dangling from his lips, a derby hat jauntily cocked on his head, and all 300 pounds of him shaking with laughter.
Yet Waller may be an unknown quantity to audiences of the "American Idol" generation, despite the fact that – as Studdard says – he had a huge influence on today's R&B and jazz musicians.
No doubt, a lot of the people attending this tour of "Ain't Misbehavin' " are more familiar with Studdard, who gained fame as the "Velvet Teddy Bear" of "Idol's" second season.
"Some are already Fats Waller fans, too, but some aren't," said Studdard. "But by the time they leave, they are most definitely Fats Waller fans.
"I'm sure that 'American Idol' has a large influence, and I'm sure I've been able to bring that type of thing to this show. And I'm sure that once people get there, they're glad they came."
"Ain't Misbehavin' " has a cast of five singers, each of whom represents different facets of Waller's personality. The setting re-creates the feel of the great Manhattan nightclubs like the Cotton Club and the Savoy Ballroom.
The joint, to quote a Waller tune, will be jumpin'.
"No self-respecting audience could let it go on without interrupting it continually (with applause,)" wrote The New York Times the day after the show premiered in 1978.
The original Broadway version was a long-running hit that won a Tony for Best Musical and made a star out of Nell Carter. It has been revived several times on Broadway and has had a long and lucrative life in regional theaters and on national tour.
The Spokane Civic Theatre did a production in 1994 featuring Casey MacGill on piano. In 1997, a national tour came through Spokane featuring Martha Reeves of Martha and the Vandellas fame.
And how did Studdard get involved in the project? The musical director called him and said she wanted him for the show. Studdard, in his words, shrugged it off, thinking she wasn't serious.
"She called me back the next week and said, 'Look, Ruben, I'm not playing with you. You have your people call these people.' So the rest is history. We called them back and now two years later, here we are."
The tour has been going nonstop since October. Studdard loves it, especially the big showcase number, "Honeysuckle Rose."
"I do that as a duet with Miss Frenchie Davis, and I love it," he said. "She's wonderful. I'm ecstatic about it."
Local journalism is essential.
Give directly to The Spokesman-Review's Northwest Passages community forums series -- which helps to offset the costs of several reporter and editor positions at the newspaper -- by using the easy options below. Gifts processed in this system are not tax deductible, but are predominately used to help meet the local financial requirements needed to receive national matching-grant funds.
Subscribe to the Coronavirus newsletter
Get the day's latest Coronavirus news delivered to your inbox by subscribing to our newsletter.
---