News > Features
Music flows in pontiff's words
Sat., March 14, 2009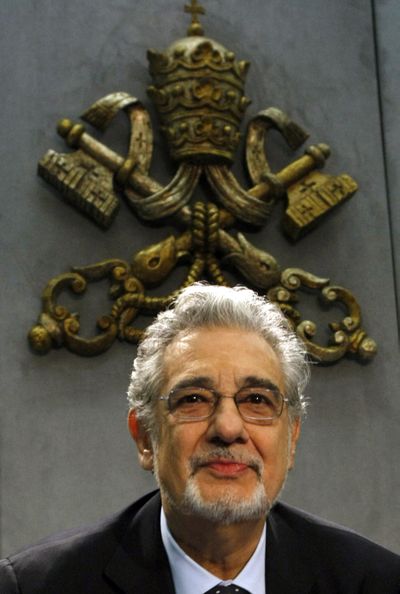 When Placido Domingo and his son, Placido Domingo Jr., set about to put the poems of the late Pope John Paul II to music, they discovered several religious passages, already translated from his native Polish to Italian, that would have made beautiful songs.
But sometime after the pontiff's words were set to music, the legendary tenor had a change of heart – and decided the focus should be more universal instead of steeped in Catholicism.
"I said, 'This is fine, this is beautiful. … Maybe one day we should record this,' " Domingo says. "But … this pope has been very much loved and admired by everybody, so there should exist other songs. So we found all this new material, so we found a lot of different themes."
The result is Domingo's "Amore Infinito," released this week, an album filled with songs about nature, the power of love, freedom, and even motherhood – all inspired by the pen of Karol Wojtyla, who would become Pope John Paul II in 1979. He remained pope until his death in 2005.
Domingo had met him a few times during his papacy, the last time being shortly before Wojtyla's death, whereupon the pope thanked him for a prior performance which he was too ill to attend.
"When he was thanking me, I said, "Holiness, I know that you have wrote a lot more poems, so I would like it very much that we would put music to some of them, and record them,' " the Italian great says. "He told me, 'Oh, that would be wonderful,' so in a way, he approve it."
Domingo worked with his son, Placido Domingo Jr., to find the right poems to set to music, and Domingo Jr. wrote or co-wrote the music to three of the album's 12 songs. The younger Domingo also produced the CD, which features Andrea Bocelli, Josh Groban, Vanessa Williams and Katherine Jenkins.
John Paul published poems, plays and philosophical essays before he became pope. Domingo says the poems used for "Amore Infinito" help underscore his humanity.
"Before he arrived to the church he was a sportsman … he was an actor, he was a writer, he was a poet," Domingo says. "This is something for everybody. His poems, they are for every human being. It has nothing to do really with the Catholic (church)."
Besides paying tribute to the late pope, the album also gave the two Domingos a chance to work together – and even inspired Placido Domingo Jr., who sings with his father and a children's choir on the first song, "Love," to start working on an album of his own.
The younger Domingo calls his foray into the singing world "inevitable." But he also says fans should not expect to hear another Domingo; his CD will be more crossover, and besides, he says he doesn't have his father's famous voice.
"If they think I am going to sound like him," he laughs, "they're going to be pretty disappointed!"
Local journalism is essential.
Give directly to The Spokesman-Review's Northwest Passages community forums series -- which helps to offset the costs of several reporter and editor positions at the newspaper -- by using the easy options below. Gifts processed in this system are not tax deductible, but are predominately used to help meet the local financial requirements needed to receive national matching-grant funds.
Subscribe to the Coronavirus newsletter
Get the day's latest Coronavirus news delivered to your inbox by subscribing to our newsletter.
---