Sports > Gonzaga basketball
Zip it: Zags turn up defense in second half to seize opener over Akron
Fri., March 20, 2009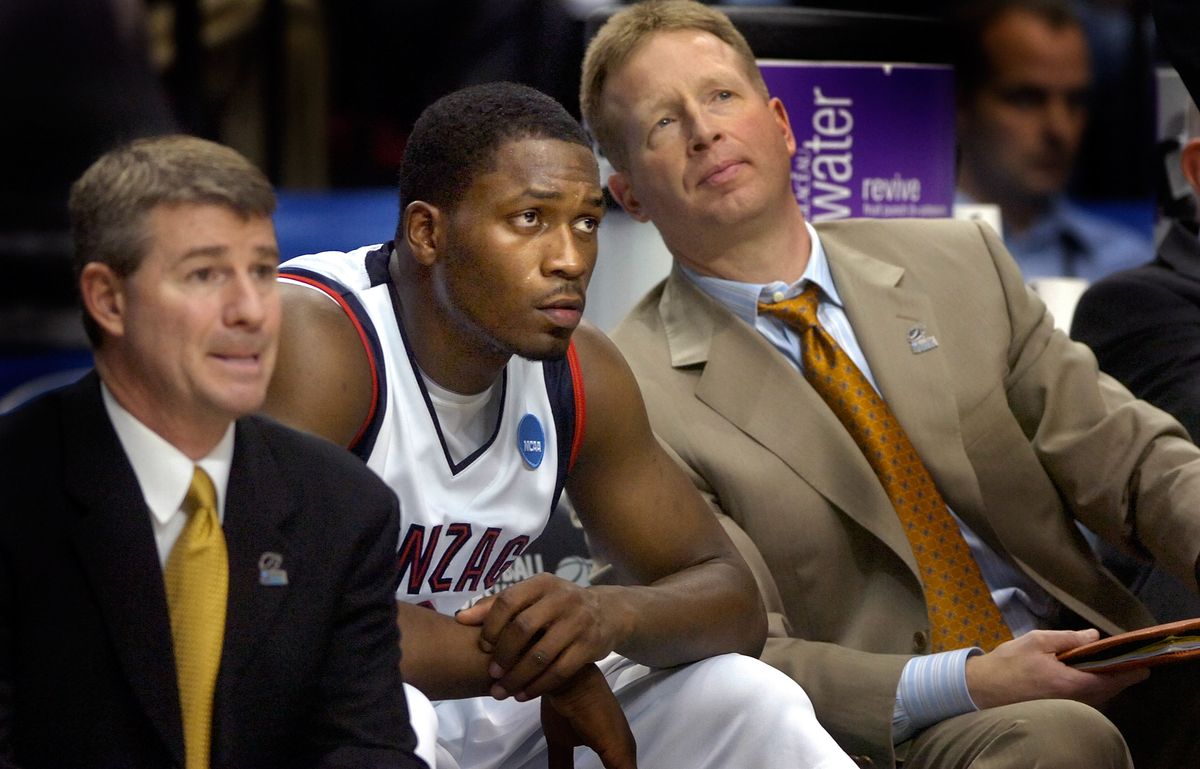 Gonzaga's win wasn't without its anxious moments, as shown by Jeremy Pargo and the GU coaching staff. (Christopher Anderson / The Spokesman-Review)
PORTLAND – It was a run that turned into a veritable sprint for the finish line.
For nearly 30 minutes, fourth-seeded Gonzaga was confined to a slower pace and was locked in a plodding affair with No. 13 Akron. Then came a modest 7-0 spurt, followed shortly thereafter by 13 straight points and a decisive 19-1 run.
Gonzaga didn't let up, outscoring the Zips 31-6 on its way to 77-64 first-round NCAA men's basketball tournament victory Thursday at the Rose Garden. The victory snapped GU's two-year string of first-round NCAA exits and propelled the Bulldogs into a second-round date with No. 12 Western Kentucky at 5:10 p.m. Saturday.
When it was over, the 10th-ranked Bulldogs (27-5) were in unison pinpointing the cause of the turnaround.
"We just took care of our defense," junior guard Matt Bouldin said. "We knew when we ratcheted it up we were going to get some easy buckets. We also didn't think they could shoot like that the entire game. Some of those guys were knocking down all kinds of shots.
"Once we got more solid on defense, we pushed the ball and it really made the difference."
The Bulldogs, who were second nationally in field-goal percentage defense during the season, gave up five 3-pointers and were beaten on the dribble numerous times by the undersized Zips in the first half. Akron led by as many as five and settled for a 38-35 edge at the break.
That changed in the second half.
The Zips (23-13) went nearly 13 minutes between field goals.
They missed 13 straight shots from the floor and their only points during that stretch came on four free throws. Akron made 7 of 27 second-half shots and finished at 36.8 percent.
Meanwhile, those errant shots fueled Gonzaga's transition game.
The Bulldogs finished with a 14-0 edge in fast-break points.
"In the second half we were able to drive down their shooting percentage, which got our transition game going, and that's when we're at our best," head coach Mark Few said. "The guys stuck with it, didn't panic, didn't get antsy. They stuck with the plan."
Senior forward Josh Heytvelt, who had 14 of his game-high 22 points in the second half, took a feed from Bouldin for a dunk and Bouldin followed that with a driving layup.
Steven Gray hit a 3-pointer and Gonzaga had its first lead, 50-49, since the 7:15 mark of the first half.
Heytvelt and Micah Downs combined for 17 points as Gonzaga stretched its lead to 70-53. Darryl Roberts, who had a career-high 19 points for the Zips, finally connected on a 3-pointer with 2:08 left, but Gonzaga's lead had grown to 19.
"It was kind of a snowball effect," said Akron's Nate Linhart, who had 13 of his 15 points in the first half. "Once they got going, we kind of got down on ourselves."
Linhart torched GU in the first half. The Zags lost track of the 6-foot-8 senior three times and he burned them with 3-pointers on each occasion.
Akron also had some success inside and with smaller forwards penetrating from the wings. The Zips only committed two turnovers in the first half.
But Gonzaga located Linhart and the Zips' other perimeter threats in the final 20 minutes.
"He came out hitting his shots in the first half and we weren't closing out good enough," said Downs, who scored 15 points. "We knew from the scouting report he could shoot the 3, but we didn't take it seriously enough in the first half. Coach (Few) is always telling us, 'Close on their toes and get a hand up.' We did a better job of that."
When the Zags weren't scoring on the break or one of their six dunks, they were able to get to the foul line.
Gonzaga made 26 of 31 free throws as the Zips committed 23 fouls. Akron was 12 of 18 at the line.
"The points of emphasis coming out in the second half were defense and attacking the basket," GU forward Austin Daye said.
"We did a lot better job with both in the second half."
Local journalism is essential.
Give directly to The Spokesman-Review's Northwest Passages community forums series -- which helps to offset the costs of several reporter and editor positions at the newspaper -- by using the easy options below. Gifts processed in this system are not tax deductible, but are predominately used to help meet the local financial requirements needed to receive national matching-grant funds.
Follow along with the Zags
Subscribe to our Gonzaga Basketball newsletter to stay up with the latest news.
---