News > Features
Rihanna suffers another bad rap
Sat., March 21, 2009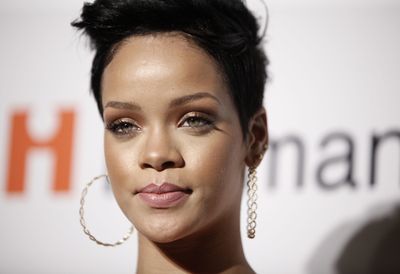 She can run, but it's pretty clear that Rihanna can't hide. Not from the long arm of the L.A. law, that is.
The Caribbean singer, firmly in the spotlight in the weeks following her alleged assault by her rapper boyfriend Chris Brown, was in a car stopped Thursday by Los Angeles police.
Officers say they stopped the 21-year-old singer's sport utility vehicle early Thursday on Hollywood Boulevard after noticing it didn't have a front license plate.
A department spokeswoman confirmed Rihanna was inside but did not have details on the citation issued to her driver.
Video shot by celebrity Web site TMZ showed an officer giving the driver a ticket.
The site also posted video of the "Umbrella" singer coming in and out of L.A.'s trendy Les Deux nightclub. The SUV is seen first speeding away from the club, then later at the traffic stop. Paparazzi had assembled around the vehicle both times.
Brown allegedly beat Rihanna, whose real name is Robyn Rihanna Fenty, in February. Brown is scheduled for April 6 arraignment on felony assault and criminal threat charges.
Catwalk? No, cat fly!
Speaking of domestic violence, the New York Post reports that "Project Runway" finalist Kenley Collins has been accused assaulting her ex-fiancé with a deadly weapon: her "cat."
Zak Penley told Brooklyn cops that on Tuesday, Collins woke him up by tossing her cat in his face. Collins, charged with assault, claims that police exaggerated the incident, which she says was nothing but a friendly bit of miscommunication.
She is woman, hear her roar
To help women such as, presumably, Rihanna, Queen Latifah has written a self-help book in which she talks about past bad relationships. "Exactly As I Am," which was written with Shaun Robinson, offers advice on how to believe yourself.
"I (used to) ingratiate myself to him (an unnamed ex-boyfriend) and then sleep with him," Queen Latifah wrote. "Afterward, I felt disgusting – really gross and nasty … and I hated myself. That feeling was so horrible, I decided I would never do that again."
No, it won't have pictures
So, Crown Books has signed former President George W. Bush to a deal to write a memoir titled "Decision Points." Now comes word that the same publisher has agreed to pay President Barack Obama to write a novel – after he leaves office.
Quotable quote
"I said, 'Yes, we really want you to kiss. I want to see if this works.' So I made them go ahead and kiss, and the sparks did fly!" That's Catherine Hardwicke, director of "Twilight," talking about working with actors Robert Pattinson and Kristen Stewart.
The birthday bunch
Actor Al Freeman Jr. is 78. Actress Kathleen Widdoes is 70. Singer Solomon Burke is 69. Actor Timothy Dalton is 63. Singer Eddie Money is 60. Singer-guitarist Rodger Hodgson (Supertramp) is 59. Bassist Conrad Lozano (Los Lobos) is 58. Actress Sabrina LeBeauf is 51. Actor Gary Oldman is 51. Actor Matthew Broderick is 47. Actress-comedian Rosie O'Donnell is 47. DJ Premier (Gang Starr) is 40.
Local journalism is essential.
Give directly to The Spokesman-Review's Northwest Passages community forums series -- which helps to offset the costs of several reporter and editor positions at the newspaper -- by using the easy options below. Gifts processed in this system are not tax deductible, but are predominately used to help meet the local financial requirements needed to receive national matching-grant funds.
Subscribe to the Coronavirus newsletter
Get the day's latest Coronavirus news delivered to your inbox by subscribing to our newsletter.
---