News > Features
Daddy's home for the duration
More fathers laid off, take over domestic duties
Mon., March 23, 2009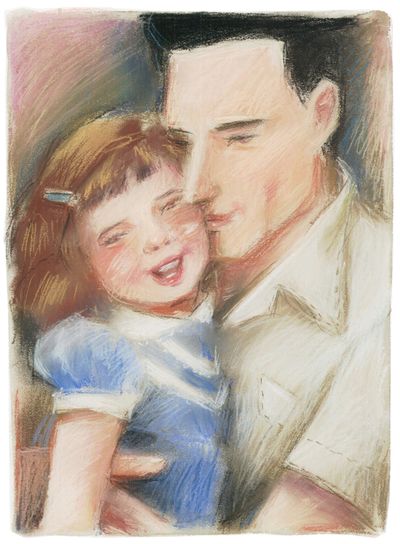 MODESTO, Calif. – Brian Fletcher has gone from the daily handling of motorcycle engines, brakes, clutches and gaskets to dealing daily with baby diapers, pacifiers, rattles and a stroller.
The 29-year-old Turlock, Calif., resident was laid off from his job as parts manager at DH Cycles in December after working at the Modesto, Calif., motorcycle shop for seven years.
Fletcher and his wife, Holly, had their first child, Hannah, in October. Now, Holly, who works full time in purchasing for the Wine Group, is the family's sole provider.
Fletcher's switch from big bikes to tiny babies comes courtesy of the economy, a trend seen across the country as the jobless rate continues to climb and men find themselves unemployed at a higher rate than women.
Many couples are seeing a shift in their family dynamics because of the deepening recession.
Nationally, since the recession started at the end of 2007, more than 80 percent of laid-off workers have been men. The disproportionate numbers can be attributed to heavy hits in traditionally male-skewing industries like construction and manufacturing and relative stability in more female-centric fields like schools and hospitals.
In November, women held more than 49 percent of jobs, and the U.S. Bureau of Labor Statistics thinks women soon could outnumber men in the workplace for the first time in the nation's history.
What that means for workplaces is one thing, but what that means in living rooms is another.
For families like the Fletchers, it has meant adjustments and reprioritizations.
Fletcher said this is the first time since he was 16 years old that he has been unemployed. Initially, he applied for several jobs a week; he figures he sent out his resume 50 to 60 times. But after receiving little to no response, he stopped applying at the same clip.
"Most of the time, you never hear anything back. I got a couple of phone calls from not the actual company but recruiters," he said. "But now, because of Hannah, I am probably less worried about it than I should be. She kind of takes up my days."
Since losing his job, Fletcher has stayed home with his daughter, now nearly 5 months old, and taken over many domestic duties, like vacuuming and laundry.
After crunching the numbers, the Fletchers decided it wouldn't be cost-effective for Brian Fletcher to take a lower-paying full-time or part-time job. They save about $1,300 a month on child care and are getting help from family to make their mortgage payments.
Other former two-income families like the Fletchers have taken advantage of similar savings. And fathers who ordinarily would work full time are finding new rewards in a different set of responsibilities.
Modesto resident Justin Finch lost his job Dec. 31. Since then, he has applied for other work while taking care of his two daughters, ages 8 and 6. His wife, Gwynn, supports the family on her salary as a leasing consultant for a real estate agent. Justin Finch's severance pay and the couple's income-tax refund have their rent payments covered until June.
"I want to make (my wife) as happy as possible," said Finch, 31. "I don't want her to worry about making dinner or doing laundry or if the floor is clean. That's not her job anymore. And I actually enjoy doing that. I enjoy having dinner ready when she comes home, so she can relax. I want the kids' homework to be done."
Finch worked for three years as a salesman and said that despite the slowdown in construction, his pink slip came as a shock.
His wife returned to the work force in August after staying at home, taking care of the couple's children since they were born. She started working outside the home again once both daughters were in school.
Now, going on his third month, Finch said the competition for jobs is more intense.
"Our market is flooded with 10 times more experienced people than it was a few years ago," he said. "Now, they're not looking at just three qualified candidates, they are looking at 15."
Local journalism is essential.
Give directly to The Spokesman-Review's Northwest Passages community forums series -- which helps to offset the costs of several reporter and editor positions at the newspaper -- by using the easy options below. Gifts processed in this system are not tax deductible, but are predominately used to help meet the local financial requirements needed to receive national matching-grant funds.
Subscribe to the Coronavirus newsletter
Get the day's latest Coronavirus news delivered to your inbox by subscribing to our newsletter.
---