News > Spokane
Everyday Economy: Remodeling with confidence
Mon., March 30, 2009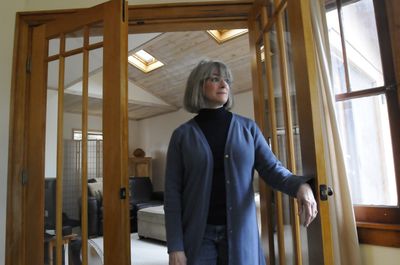 It's spring, and a homeowner's thoughts turn to home improvement projects. If you've got a big one coming up, you'll be thinking of hiring a contractor. Few relationships can be so fraught with conflict or misunderstanding – or even liens and lawsuits. But homeowners who've had successful relationships with contractors say if you take time on the front end, you can avoid a lot of the problems down the road.
"When I would tell people, 'I think we're going to remodel,' I heard nothing but war stories, horror stories," said Emily Sue Pike, a retired high school teacher who had the main floor of her North Side home remodeled last year. "I had a good friend who builds homes, and I asked him, 'If you were remodeling your home, who would you ask?' "
Merry Armstrong, a nursing professor at Washington State University, followed a similar tack when she was looking for contractors last year to remodel the 1929 Craftsman she bought on the South Hill. Armstrong said the home had been "hmmm, updated?" in the 1970s – complete with a spa, linoleum and slanted cedar planking on the walls. She wanted that undone.
After asking around and checking out some contractors, Armstrong wound up with two – Bill McKay and Brian Hawkins – who made her very happy.
How can you replicate their experiences? Here are some tips from Armstrong, Pike and other sources.
1
Do your homework. "I would just ask everybody you know," Armstrong said. "I would call people they've done work for and ask if they've really done a good job." You can ask potential contractors for photos of past work or references from others. Best of all: See if they've got a good reputation in the industry, among builders and tradespeople. You can also check with the state licensing board and Better Business Bureau to see if they're properly licensed and operating in good standing.
2
Talk about costs. Don't just get a single figure and expect it will hold. Discuss a range of possibilities with your potential contractors, and how those possibilities might affect costs. Talk about your limits and where you're flexible. Try to get ahead of as many surprises as possible.
3
Get multiple bids. This should go without saying, but many people skip this step. Armstrong recalls getting bids to have a furnace moved years ago – one came in at $2,000, one came in at $700. The latter bidder got her business, and still does. But cost is only one factor. As you interview contractors and compare bids, consider the quality of the materials and the work being proposed, as well as the bottom line. It's a cliché because it's often true: You get what you pay for.
4
Beware the warning signs. Money magazine lists a few things that might give you pause in hiring a contractor: someone who wants to be paid in cash, doesn't carry a cell phone, wants to skip permits or have you apply for them, and solicits business door to door. And if you get a bad feeling – if they "seem sleazy," as Money puts it – trust your gut.
5
Pay attention to positive indications. Pike remembers a couple of things that immediately impressed her about her contractor, Dave Covillo: He got his bid to her in the three days they agreed on, and he was willing to work around an unusual circumstance, including the fact that Pike, her husband and their two dogs would continue to live in the home. These turned out to be signs of the contractor's overall style, Pike said – he finished the job early and under budget. "I could not have been happier," she said.
Local journalism is essential.
Give directly to The Spokesman-Review's Northwest Passages community forums series -- which helps to offset the costs of several reporter and editor positions at the newspaper -- by using the easy options below. Gifts processed in this system are not tax deductible, but are predominately used to help meet the local financial requirements needed to receive national matching-grant funds.
Subscribe to the Coronavirus newsletter
Get the day's latest Coronavirus news delivered to your inbox by subscribing to our newsletter.
---
Subscribe and log in to the Spokesman-Review to read and comment on this story