Sports
Book blasts Rodriguez
Fri., May 1, 2009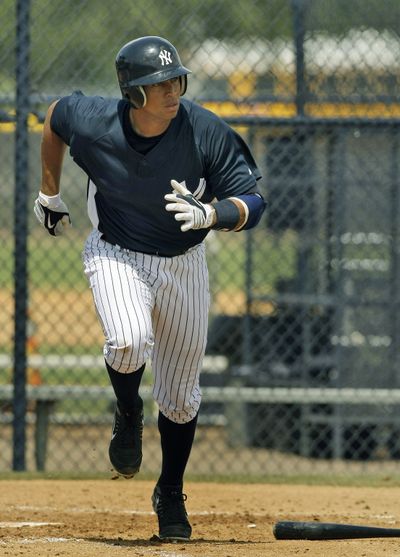 A new, unflattering biography of Alex Rodriguez reportedly says he may have used steroids as early as high school and even after he joined the New York Yankees.
Rodriguez admitted in February to using steroids while with the Texas Rangers from 2001-03, but insisted he stopped before he was traded to the Yankees in February 2004. He brushed off a question Thursday about details from Sports Illustrated writer Selena Roberts' upcoming book "A-Rod" that cast doubt on his earlier statements.
"I'm not going there," he said after homering in an extended spring training intrasquad game in Tampa, Fla. Rodriguez has been rehabbing from hip surgery in March and hasn't played for the Yankees this season.
The Daily News reported that Roberts' book portrays the three-time A.L. MVP as a needy personality who wanted his ego stroked constantly and a player who tipped opponents to pitches in blowout games, hoping the favor would get returned someday.
The paper didn't say how it obtained a copy of the Harper Collins book, scheduled for release Monday.
M's Corcoran ails
Relief pitcher Roy Corcoran's season has gone from poor to painful.
The Mariners placed Corcoran on the 15-day disabled list – retroactive to Wednesday – because of a strained neck. He'll be eligible to come off the DL on May 14.
The Mariners plan to call up left-hander Jason Vargas from Triple-A Tacoma before tonight's game against Oakland.
Corcoran has struggled to keep the ball down and has a 7.27 ERA in eight relief appearances, having allowed 13 hits and nine walks in 82/3 innings.
Clearing the bases
The Los Angeles Dodgers purchased the contract of the right-hander Jeff Weaver from Triple-A Albuquerque after he spent 2008 in the minor leagues. Weaver earned a World Series ring in 2006 with St. Louis after winning the Game 5 clincher against Detroit. He was 7-13 with a 6.20 ERA in 27 starts for Seattle in 2007. … Baltimore Orioles pitcher Jamie Walker was fined by the commissioner's office for criticizing umpire Angel Hernandez. Hernandez called a balk on Walker during the seventh inning of Tuesday night's 7-5 loss to the Los Angeles Angels. … Milwaukee Brewers minor league pitcher Pedro Lambertus has been suspended for 50 games after testing positive for metabolites of Boldenone, a steroid. Lambertus plays for Class A Wisconsin of the Midwest League.
Local journalism is essential.
Give directly to The Spokesman-Review's Northwest Passages community forums series -- which helps to offset the costs of several reporter and editor positions at the newspaper -- by using the easy options below. Gifts processed in this system are not tax deductible, but are predominately used to help meet the local financial requirements needed to receive national matching-grant funds.
Subscribe to the sports newsletter
Get the day's top sports headlines and breaking news delivered to your inbox by subscribing here.
---
Subscribe and log in to the Spokesman-Review to read and comment on this story