News > Spokane
Getting greener
Bloomsday to recycle thousands of cups in latest initiative
Sat., May 2, 2009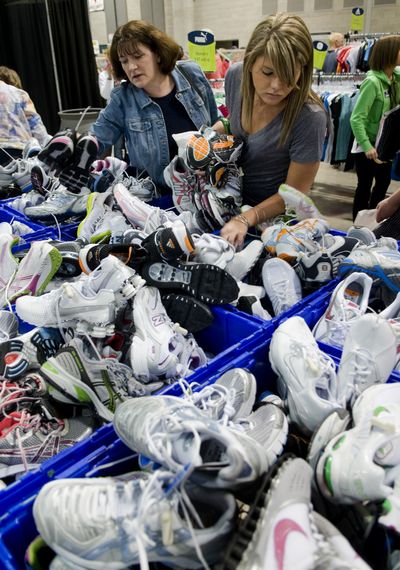 When 50,000 runners and walkers reach for water during Bloomsday, they leave quite a few paper cups behind.
In previous years, cleanup crews have swiftly removed the trampled cups as the race wound down, but this year the used cups aren't going in the trash: They will be recycled.
"We have had a bit of a struggle getting the right cups here on time, but we should be good to go," said Steve Jones, a member of Bloomsday's board of directors and the overseer of the race's Going Greener initiative. "Bloomsday has always been about the health and fitness of people, and we have always done what we could to be mindful of our impact on the environment."
Bloomsday runners go through 300,000 to 500,000 cups depending on how warm a day it is. The forecast this year is cloudy with a high near 58.
Last year, crews picked up 9 ½ tons of garbage after the race, Jones said, but there's no way of knowing how much of that was paper cups.
This year the cups will be hauled off to a recycling facility in Royal City, Wash.
Over the years Bloomies have donated tons of used clothing to charity when they strip off their warm-ups before the start, leaving shirts and pants hanging from downtown trees to be collected by volunteers.
A new line of eco-friendly Bloomsday shirts made of recycled materials is available at the trade show this year. "We have shirts made out of recycled polyester and water bottles," said Jones.
Among other environmentally friendly initiatives: Bloomsday is now printing forms on post-consumer recycled paper using vegetable-based ink, and the race has reduced its print run by 25 percent.
"This year, 38,000 of the 48,000 registrations we got were online," Jones said.
Race organizers couldn't find 100 percent recycled paper for the posters.
"We did the very best we could for the posters, but the paper has to have a certain quality to hold up to the printing," Jones said.
At the trade show, the Spokane Public Facilities District made an extra effort to put out recycling containers for cardboard and shrink wrap – two of the most common types of waste from vendors at the show.
"And we made more of an effort to let vendors know that recycling is available," Jones said.
In terms of reducing the race's carbon footprint, Jones said the way people travel to the race makes a huge difference.
"Almost a quarter of our field takes the bus," he said.
Once the race is over, Bloomsday management will look at how this year's "going green" efforts panned out and think up new ways to make the race more environmentally friendly next year. One idea is to explore renewable energy sources to power race needs, with the continued goal of reducing overall waste by 10 percent each year.
Local journalism is essential.
Give directly to The Spokesman-Review's Northwest Passages community forums series -- which helps to offset the costs of several reporter and editor positions at the newspaper -- by using the easy options below. Gifts processed in this system are not tax deductible, but are predominately used to help meet the local financial requirements needed to receive national matching-grant funds.
Subscribe to the Coronavirus newsletter
Get the day's latest Coronavirus news delivered to your inbox by subscribing to our newsletter.
---