News > Nation/World
Lines drawn for high court confirmation
Obama hopes to name choice quickly; conservatives promise scrutiny
Sat., May 2, 2009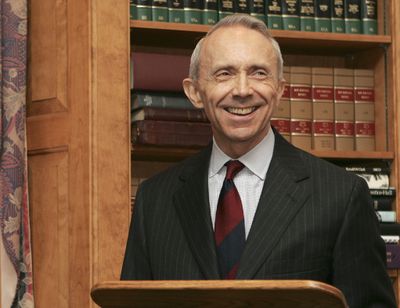 WASHINGTON – President Barack Obama said Friday that he plans to move quickly to name a replacement for retiring Supreme Court Justice David Souter, as senators and interest groups on both ends of the ideological spectrum began mobilizing for the first court confirmation battle of his presidency.
Making a surprise appearance in the White House briefing room after speaking with Souter by phone, Obama told reporters he hopes to have a new justice in place for the start of the court's next term in October, a timeline that aides said would require a nomination to be sent to the Senate by June or July.
The president praised Souter, 69, as a "fair-minded and independent judge" and said he would nominate a replacement who both respects the Constitution and brings "empathy" and "understanding" to the bench.
"I will seek someone who understands that justice isn't about some abstract legal theory or footnote in a casebook, it is also about how our laws affect the daily realities of people's lives – whether they can make a living and care for their families, whether they feel safe in their homes and welcome in their own nation," Obama said.
The vacancy presents Obama with his first opportunity to begin reshaping the court. With the Republican opposition in the Senate weakened by the November elections and last week's defection by Pennsylvania Sen. Arlen Specter, few conservatives held out much hope that they could block an Obama nominee.
On Capitol Hill, Republicans acknowledged the long odds they faced to defeat the eventual nominee unless Obama makes a selection that is easily portrayed as outside the mainstream of legal thinking.
"The only way the Obama administration can screw this up is to nominate someone who is a radical," said Sen. Lindsey O. Graham, R-S.C., a senior member of the Judiciary Committee. Graham said Republicans understood that "you're basically going to replace one liberal with another." The only chance for a real surprise in the hearings, Graham said, would be if the White House slips up as it has with several Cabinet nominees and puts forward a candidate with financial or ethical problems.
"I would advise they vet the person a little better than they have in the past," Graham quipped.
Early speculation about Obama's potential choices has centered on several female jurists, as well as a number of prominent Hispanics. A Hispanic has never served on the Supreme Court.
White House officials began the work of identifying potential court nominees soon after Obama's election in November. During the transition, aides began compiling a list of possible Supreme Court candidates, with Obama adding several names to the mix. That process accelerated when the White House began receiving suggestions in February that Souter hoped to step down.
Souter had not planned to announce his retirement until the end of the court's term in June, according to an informed source, and was stunned when the first reports broke Thursday night. The source said Souter called a friend Thursday evening to say that there was a story moving about his retirement and lament that he had not yet had a chance to convey his decision to Obama.
Souter called Obama on Friday and formalized his decision to retire with a one-paragraph letter to the president that was released by the court. Souter, known as the court's most reclusive member, made no public statement.
Local journalism is essential.
Give directly to The Spokesman-Review's Northwest Passages community forums series -- which helps to offset the costs of several reporter and editor positions at the newspaper -- by using the easy options below. Gifts processed in this system are not tax deductible, but are predominately used to help meet the local financial requirements needed to receive national matching-grant funds.
Subscribe to the Coronavirus newsletter
Get the day's latest Coronavirus news delivered to your inbox by subscribing to our newsletter.
---