News > Business
Economy showing signs of bottoming, says Fed
Bernanke: Many challenges, risks for recovery remain
Wed., May 6, 2009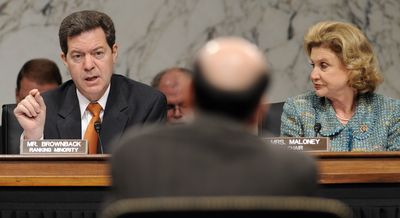 WASHINGTON – The U.S. economy seems to be contracting at a slower rate than it was a few months ago, Federal Reserve Chairman Ben Bernanke told lawmakers Tuesday, delivering a message of optimism that was tempered by his forecast that the economy could perform well below its potential for some time to come.
Testifying before the Joint Economic Committee, Bernanke's assessment of the economy was decidedly more optimistic than the one he offered Congress in late February, even as he stressed that there are many risks and challenges that could stand in the way of recovery.
Indeed, reflecting a change in the tone around the economic discussion in recent weeks, Bernanke encountered more questioning about how and when the Fed will end its aggressive steps to stimulate the economy than he did about what more steps he can take to ameliorate a severe recession.
Bernanke said that the "pace of contraction may be slowing," that consumer demand "may be stabilizing" and that the housing market has "shown some signs of bottoming." But he also forecast that once a recovery begins, it will be slow.
"We expect that the recovery will only gradually gain momentum and that economic slack will diminish slowly," Bernanke said. "In particular, businesses are likely to be cautious about hiring, implying that the unemployment rate could remain high for a time, even after economic growth resumes."
Bernanke's remarks seemed designed to instill confidence in the economy and capture the positive signs that have emerged lately, without suggesting that the Fed will be complacent about the continued economic pain the nation is experiencing.
"He's saying we have more concrete evidence to support the view that the recession will end this year," said Brian Bethune, chief U.S. financial economist at IHS Global Insight. "But he's also saying though that there are major issues still out there, and they want to make sure there are no alligators out in the weeds there that are going to jump out."
For example, Bernanke offered a dour forecast for the corporate sector, saying that indicators of business investment "remain extremely weak" and that commercial real estate conditions are "poor."
A report released Tuesday on the service sector supported the idea that the economy, while still in decline, is declining more slowly than it was earlier in the year. The Institute for Supply Management's index of nonmanufacturing business activity registered 43.7 in April, up from 40.8, the best level since October. Any reading below 50 indicates a contraction, but new orders, a forward-looking component of the index, were up sharply.
With those signs of light, Bernanke faced repeated questions Tuesday on how the Fed will manage its $2 trillion in assets, maintain its political independence and avoid a bout of inflation once the economy is on more solid footing. In other words, asked lawmakers, now that the Fed has taken unprecedented actions to support the economy, what is the exit plan?
"I just want to assure the American people that we are very focused, like a laser beam … on this issue of the exit and of making sure that we have price stability in the medium term," Bernanke said. "It's very important for us to provide a lot of support for this economy right now because it needs support, but at the same time we understand the necessity of winding this down in an orderly way at the appropriate moment so that we will not have inflation problems on the other side."
Local journalism is essential.
Give directly to The Spokesman-Review's Northwest Passages community forums series -- which helps to offset the costs of several reporter and editor positions at the newspaper -- by using the easy options below. Gifts processed in this system are not tax deductible, but are predominately used to help meet the local financial requirements needed to receive national matching-grant funds.
Subscribe to the Coronavirus newsletter
Get the day's latest Coronavirus news delivered to your inbox by subscribing to our newsletter.
---