News > Features
So, who will be given Mercy?
Wed., May 6, 2009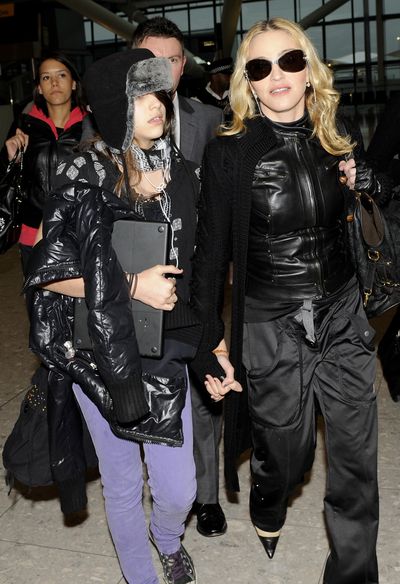 Madonna's bid to adopt a second child from Malawi is in the hands of the African country's highest court after a surprise intervention by a man claiming to be the girl's father.
The Malawi Supreme Court of Appeal heard arguments Monday from lawyers for the pop star and two children's rights groups.
Madonna is fighting a lower court's decision that she cannot adopt 3-year-old Chifundo "Mercy" James because she had not been screened over time by Malawi authorities.
Those rules were bent when Madonna adopted David Banda from Malawi last year.
Meanwhile, a man claiming to be the girl's father is trying to stop the adoption.
James Kambewa, a 24-year-old security guard, acknowledged he's never seen the child – who was placed in an orphanage when her 14-year-old mother died a few weeks after giving birth – but now wants to claim custody.
"I may be poor, but I think I have what it takes to raise a daughter," he says.
The brother of the girl's mother says the family does not know Kambewa, adding: "How can he claim he is the father when he hasn't been around all this time?"
Ending their latest engagement
Acting couple Peter Sarsgaard and Maggie Gyllenhaal have made it official, getting married over the weekend.
The couple have a daughter, Ramona, who was born in October 2006. They announced their engagement earlier that year.
Gyllenhaal's film roles include "The Dark Knight" and "World Trade Center." Sarsgaard has appeared in the films "Jarhead," "Boys Don't Cry" and "Kinsey."
Safe house for Winehouse
Amy Winehouse has won a court order banning the paparazzi from pursuing her outside her London home.
Winehouse sought the order to ban photographers if they follow her or approach her within 100 meters of her home.
The 25-year-old's drug problems have been front page news in Britain, where she was pictured puffing on what appeared to be a crack pipe last year.
Take care of his wife, please
Stand-up comic Robert Schimmel has been arrested on suspicion of beating his wife.
Schimmel, 59, has been a frequent guest on Conan O'Brien's TV show and on Howard Stern's radio program.
His 2008 memoir "Cancer on $5 a Day" chronicles his battle with non-Hodgkin's lymphoma.
On a sad note …
Adam Cook, the eldest brother of "American Idol" winner David Cook, has died from brain cancer at age 37.
The older Cook, a lawyer from Terre Haute, Ind., had battled cancer for more than a decade. He famously cheered for his singing sibling in the audience of the popular Fox talent competition's seventh season in 2008.
The birthday bunch
Singer Bob Seger is 64. Singer Jimmie Dale Gilmore is 64. Actor Ben Masters ("Passions") is 62. Host Tom Bergeron ("Dancing with the Stars," new "Hollywood Squares") is 54. Singer John Flansburgh (They Might Be Giants) is 49. Actress Roma Downey ("Touched by an Angel") is 49. Actor George Clooney is 48.
Local journalism is essential.
Give directly to The Spokesman-Review's Northwest Passages community forums series -- which helps to offset the costs of several reporter and editor positions at the newspaper -- by using the easy options below. Gifts processed in this system are not tax deductible, but are predominately used to help meet the local financial requirements needed to receive national matching-grant funds.
Subscribe to the Coronavirus newsletter
Get the day's latest Coronavirus news delivered to your inbox by subscribing to our newsletter.
---