News > Idaho Voices
Gardening lessons
Post Falls woman's yard becomes promising patch for students, mentors
Sun., May 10, 2009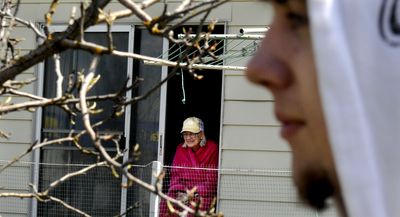 Near the corner of Seltice Way and Greensferry Road in Post Falls, there are a bank, a tire store, a pawnshop.
There's also a one-acre residential lot dotted with towering cherry trees and apple trees in serious need of pruning.
This spring and summer, students from various Post Falls School District programs will turn this dormant piece of earth into a productive garden. The garden's bounty, in turn, will be donated to local seniors who are no longer able to garden for themselves.
The garden is part learning lab, part community service project. It'll be a place where students can learn practical skills, see some of their lessons put to use, and meet up with mentors who can guide them through the gardening process, said Mark Jones, the Post Falls School District's alternative to suspension coordinator.
The garden project is supported by a $22,300 grant from Balanced and Restorative Justice, a program of the Idaho Department of Juvenile Corrections. The grant pays for personnel, transportation and maintenance expenses, in addition to startup costs, such as a lawnmower, a rototiller, fertilizer and plants, Jones said.
While students in grades 7 through 12 will work and visit the garden during the school year, the summer workers will include students and other young people who need to complete community service hours through the justice system.
"It'll be mostly kids with an interest in outdoor activities, or gardening, or maybe some science," Jones said. "Or maybe those who need some extra hours to earn their way back into school. It'll be a combination of all kinds of different students from all kinds of situations."
The land is owned by Mary Richards. She's lived at the corner of Seltice and Greensferry since long before there was an interstate nearby. Before there wasn't much of anything except a pond and some roving cows, Jones said. "Mary planted the seed for this," he said.
Jones met Richards, who uses a wheelchair, through his Meals on Wheels route. Soon he began helping out around the place, mostly with snow removal. For years, Jones said, Richards suggested students could learn a lot by working her land.
Work at the garden began last fall, when students helped dig up sod to create two 40-by-70-foot garden beds. Already, cold-weather crops such as lettuces, cabbage and cauliflower are in the ground. Blueberry and raspberry bushes have been planted nearby. As the weather warms, additional vegetables and herbs will find homes in the new beds.
Because Jones didn't want to see Richards burdened by the extra cost of watering the garden, the city of Post Falls installed a separate water meter; irrigation will be paid for with the grant money, he said.
On a recent morning, students from New Vision High School visited the site to hear a presentation on pruning and tree care from Joe Zubaly, president of Northwest Plant Care.
Then they had a chance to prune a few of Richards' fruit trees.
The students were there as part of the community service component of their education, said Steve Hansen-Barber, a science teacher at the alternative high school.
"This just broadens their ideas of the world out there and what possible jobs and types of thing are available," he said. "But the other thing is the meaningfulness of doing something in your community and being a part of the community. So many of the alternative school kids feel like outsiders. This brings them back, gives them some ties."
Later this spring he'll bring his science students to the garden, where they'll supplement their classroom work on climate change by seeing how buying and eating locally can reduce dependence on fossil fuel.
Mentorship comes in the form of the River City Garden Club. Several club members have been active in the garden, giving advice and helping plan what to plant where and when.
"I think this is absolutely the most wonderful thing," said Barb Tilton, a gardener from Post Falls. "This is so good for the kids. This is something they can take with them for the rest of their lives."
The gardeners get something out of it, too. Several of them watched Zubaly closely as he demonstrated the best way to prune a neglected apple tree.
"The more we hang out here, the more we learn," Tilton said.
Local journalism is essential.
Give directly to The Spokesman-Review's Northwest Passages community forums series -- which helps to offset the costs of several reporter and editor positions at the newspaper -- by using the easy options below. Gifts processed in this system are not tax deductible, but are predominately used to help meet the local financial requirements needed to receive national matching-grant funds.
Subscribe to the Coronavirus newsletter
Get the day's latest Coronavirus news delivered to your inbox by subscribing to our newsletter.
---