News > Nation/World
Professor's body found in woods
He was sought in killing of wife, 2 others
Sun., May 10, 2009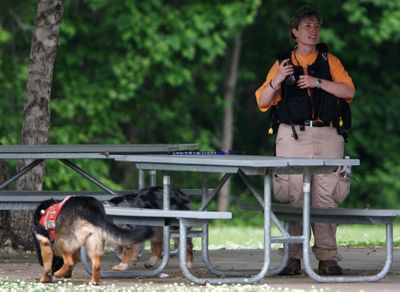 ATHENS, Ga. – Cadaver dogs found the body of a wanted professor in the north Georgia woods Saturday, two weeks after police say he shot his wife and two other people to death outside a community theater, then vanished.
Searchers found two guns near the body of marketing professor George Zinkhan, 57, but police wouldn't say how he died. They did say it appears he buried himself in brush and dirt.
"A person who is not accustomed to the woods would never have found the body," said Athens-Clarke County Police Chief Joseph Lumpkin.
Zinkhan disappeared after the April 25 shootings near the University of Georgia, where he'd had a spotless record since arriving to teach in the Terry College of Business in the 1990s.
Bulletins were issued nationwide and authorities kept watch on airports in case he tried to flee to Amsterdam, where he had taught part time at a university since 2007.
Instead, cadaver dogs found his body about 10 miles west of Athens in thick woods in Bogart, where he lived. Searchers – as many as 200 at one point – had been scouring the woods since his Jeep was found wrecked and abandoned in a ravine about a mile away a week ago. The guns found with him matched the description provided by people who witnessed the shootings.
Neighbor Bob Covington called Saturday's discovery "another sad chapter to the story." Zinkhan dropped off his children at Covington's house after the shootings, saying there was an emergency. It was the last time anyone saw him alive.
"It's been two weeks of people being on pins and needles, every time you see a police car," Covington said. "I think this will ease a lot of tension. People can get back to their lives and move on from this horrible tragedy."
Local journalism is essential.
Give directly to The Spokesman-Review's Northwest Passages community forums series -- which helps to offset the costs of several reporter and editor positions at the newspaper -- by using the easy options below. Gifts processed in this system are not tax deductible, but are predominately used to help meet the local financial requirements needed to receive national matching-grant funds.
Subscribe to the Coronavirus newsletter
Get the day's latest Coronavirus news delivered to your inbox by subscribing to our newsletter.
---