Sports
Lakers bounce back, rout Rockets for 3-2 series lead
Wed., May 13, 2009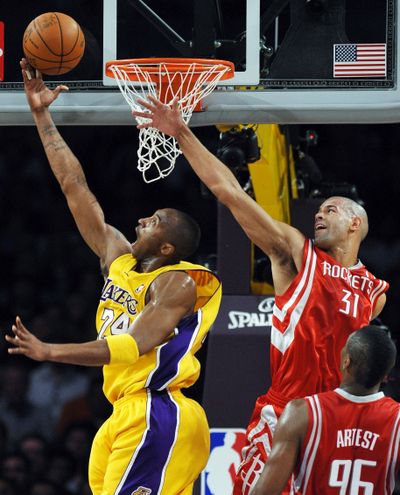 Kobe Bryant needed only three quarters to score 26 points and the Los Angeles Lakers bounced back from their Game 4 flop, routing the Houston Rockets 118-78 on Tuesday night in Los Angeles to take a 3-2 lead in the Western Conference semifinals.
The top-seeded Lakers did everything they didn't do in Sunday's 99-87 loss at Houston – hustled, rebounded and played tight defense on Houston's smaller lineup, keeping Aaron Brooks in check and limiting wide-open shots.
On Sunday the Lakers trailed by 29 points. On Tuesday night, they had a 29-point lead by late in the second quarter, on a 3-pointer by Bryant, who led seven Lakers in double figures.
The Lakers can wrap up the series Thursday night in Houston.
•Celtics take 3-2 lead: Ray Allen's 3-pointer with 1:20 left gave Boston its first lead since the opening minutes and the Celtics beat the Orlando Magic 92-88 in Boston to take a 3-2 lead in the Eastern Conference semifinals.
Stephon Marbury scored all of his 12 points in the fourth quarter, keeping the Celtics in the game after a lackluster 36 minutes that left them trailing by 14 with 8:49 to play. Orlando led 85-75 with 5:39 left, then Boston scored the next 13 points to open an 88-85 lead before Rashard Lewis' free throws with 7.3 seconds left.
Paul Pierce had 19 points, nine rebounds and eight assists, Kendrick Perkins grabbed 11 rebounds, and Game 4 hero Glen "Big Baby" Davis scored 10 of his 22 points in the fourth quarter.
•Sixers eye Collins: Former NBA coach and TNT analyst Doug Collins has talked to the Philadelphia 76ers about their open coaching job.
Collins was among a list of candidates floated to replace Tony DiLeo, who stepped down and returned to the front office.
"They know, I've talked to them like two or three times, they know what I've said," Collins said. "Whatever they want to do, they know where I am if they want to call."
Collins is 332-287 in a coaching career that includes stops with Chicago, Detroit and Washington. He hasn't coached since the 2002-03 season with the Wizards.
•Granger lauded: Danny Granger told a storybook tale of how he learned he'd been selected the NBA's Most Improved Player.
The Indiana Pacers star offered a picturesque image of riding in a gondola in Venice, Italy, with one hand in the water and wind blowing through his hair.
Much of that was indeed a story – he was in Venice, but in his hotel room instead of a boat when he heard the news. Upon coming clean at a news conference, those in the room broke into laughter.
"I can honestly say it really did come as a surprise," he said. "I really had it out of my mind for a while. I was on vacation, enjoying Italy, and all of a sudden, I'm winning the award."
He edged New Jersey Nets guard Devin Harris 364-339 in voting from a panel of 121 journalists.
NHL
Ducks force Game 7
Ryan Getzlaf and Corey Perry each had a goal and an assist and Jonas Hiller made 38 saves as the Anaheim Ducks beat the Detroit Red Wings 2-1 in Anaheim, Calif., to force a decisive Game 7 in the Western Conference semifinal series.
Scott Niedermayer and Bobby Ryan added assists for the Ducks, who built a two-goal lead in the second period and managed to shut down the Red Wings until Johan Franzen brought Detroit within a goal with 2:25 to play.
Game 7 will be in Detroit on Thursday, with the winner moving on to face the Chicago Blackhawks in the conference finals.
•Bruins knot series: Mark Recchi had a goal and an assist, and the Boston Bruins beat the Carolina Hurricanes 4-2 in Raleigh, N.C., to even the Eastern Conference semifinals and force a decisive Game 7.
Marc Savard scored before leaving in the third period with an apparent leg injury. Steve Montador and Chuck Kobasew also connected, Patrice Bergeron had two assists and Tim Thomas stopped 31 shots in his second straight victory.
The NHL's top remaining seed led 2-0 barely 5 minutes in and made it stand to win its second straight since falling behind 3-1 in the series. Its reward: A trip back to Boston for Thursday night's Game 7, its first at home since losing in the first round to Montreal in 2004.
Miscellany
Floyd under fire
A former associate of NBA star O.J. Mayo has told Yahoo Sports that Southern California basketball coach Tim Floyd paid to help get Mayo to play for the Trojans.
In a story posted at Yahoo Sports, Louis Johnson, the former associate of Mayo's, said Rodney Guillory told Johnson that Floyd had given Guillory "a grand." Johnson said he was able to view $100 bills inside an envelope Guillory had.
Johnson said the payment occurred in 2007.
Yahoo Sports also reported that Southern California is the subject of an NCAA investigation into alleged improprieties in both the football and men's basketball programs.
•Williams ousted: Venus Williams joined sister Serena on the sideline of the Madrid Open after the third-ranked player was upset 6-3, 3-6, 7-5 by Alisa Kleybanova.
Serena Williams, who retired from her match Monday with a right knee injury, watched from the stands as Kleybanova picked her shots well and ran Williams around the court.
Roger Federer began his final warmup for the French Open with a 6-1, 7-5 win over Robin Soderling, while third-ranked Andy Murray scored a 7-6 (9), 6-4 victory against Simone Bolelli.
•Armstrong sixth: Italy's Danilo Di Luca won the fourth stage of the Giro d'Italia in an uphill finish in Castrozza, Italy, while Lance Armstrong finished 15 seconds behind and dropped to sixth place overall.
Sweden's Thomas Lovkvist of Team Columbia-High Road was seventh and took the overall leader's pink jersey from Alessandro Petacchi of Italy. Lovkvist holds a two-second lead over Di Luca in the overall standings.
Local journalism is essential.
Give directly to The Spokesman-Review's Northwest Passages community forums series -- which helps to offset the costs of several reporter and editor positions at the newspaper -- by using the easy options below. Gifts processed in this system are not tax deductible, but are predominately used to help meet the local financial requirements needed to receive national matching-grant funds.
Subscribe to the sports newsletter
Get the day's top sports headlines and breaking news delivered to your inbox by subscribing here.
---