News > Nation/World
Suicide bombers stage synchronized attacks
Wed., May 13, 2009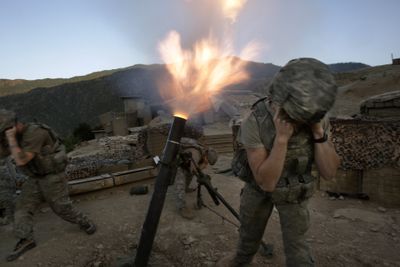 FARAH, Afghanistan – As many as a dozen suicide bombers staged synchronized attacks Tuesday on government buildings in a provincial capital in eastern Afghanistan, triggering a day of chaotic fighting that left at least 20 people dead.
Scores of people were injured in the fighting in Khost, the site of a large American military base. The wounded included at least three U.S. soldiers.
The assault was reminiscent of an earlier attack on the American base, Camp Salerno, in which militants used multiple suicide bombers. This one, however, was aimed at softer targets: the governor's compound, the police headquarters and a municipality building.
At one point, the assailants seized about 20 city employees as hostages, but they were later freed. Residents of the city, which lies close to the Pakistani border, hid in their homes as gunfire rang out for hours.
The Khost attack was a sign of insurgents' growing ability to stage sophisticated, multipronged attacks. Militants in the eastern part of the country are thought to have better access to training in Pakistan's tribal areas, a haven for the Taliban and al-Qaida. At least one of the suicide bombers was disguised in a burqa, the all-enveloping veil worn by many Afghan women. Insurgents also apparently laid an ambush for a rescue team that came from the American base.
A U.S. military spokesman said the Khost governor's compound was hit by a trio of suicide attacks, but the assailants were unable to penetrate the installation. They did manage to force their way inside a nearby municipal building.
The upsurge in fighting across Afghanistan has coincided with a spike in civilian casualties caused during clashes between coalition troops and insurgents.
The Taliban, meanwhile, on Tuesday mocked the ousted U.S. commander in Afghanistan, Army Gen. David D. McKiernan, who was replaced a day earlier by Lt. Gen. Stanley McChrystal. The move was interpreted as reflecting dissatisfaction by the Obama administration over the course of the conflict.
The change in command comes as more than 21,000 additional American troops have begun arriving in Afghanistan.
Taliban spokesman Qari Yousaf Ahmadi, reached by telephone, said the decision showed that American officials knew they were losing the war.
Local journalism is essential.
Give directly to The Spokesman-Review's Northwest Passages community forums series -- which helps to offset the costs of several reporter and editor positions at the newspaper -- by using the easy options below. Gifts processed in this system are not tax deductible, but are predominately used to help meet the local financial requirements needed to receive national matching-grant funds.
Subscribe to the Coronavirus newsletter
Get the day's latest Coronavirus news delivered to your inbox by subscribing to our newsletter.
---