News > Nation/World
Detainee photographs may be withheld
Obama cites troop safety as rationale for decision
Thu., May 14, 2009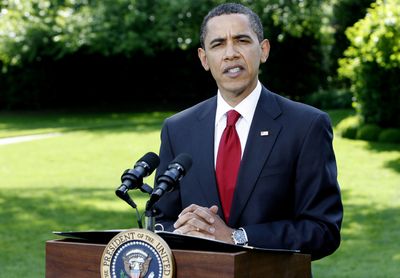 WASHINGTON – In a dramatic reversal, President Barack Obama said Wednesday he would seek to block the release of dozens of photographs depicting alleged abuse of detainees by U.S. soldiers, arguing the disclosures would "further inflame anti-American opinion and to put our troops in greater danger."
The decision – coming just three weeks after the administration agreed to release the images – set the stage for a confrontation with liberal advocacy groups that had been seeking the release of the pictures. They accused Obama of violating his promises of openness and parroting the Bush administration's past justifications for secrecy that were rejected by courts.
"This is profoundly inconsistent with the promises of transparency that President Obama had made over and over and over," said Jameel Jaffer, director of the national security project at the American Civil Liberties Union, which had sued for the release of the images under the Freedom of Information Act. "There's no legal basis for withholding the photographs, so this must be a political decision."
The ACLU's Freedom of Information Act lawsuit against the Bush administration's Department of Defense in 2004 led a federal court in New York to order the photos released. A federal appeals court upheld the decision in September.
The Obama administration now has until June 9 either to reargue the case before the 2nd U.S. Circuit Court of Appeals in New York, or petition the U.S. Supreme Court.
Civil liberties groups, arguing for the White House and Congress to back investigations into the Bush administration's interrogation techniques and broader anti-terror policies, have said the photos would prove abuse of detainees was "systemic," and not just the work of a few rogue soldiers, as Bush officials have said.
But in a brief appearance Wednesday, Obama directly rejected that argument.
"The publication of these photos would not add any additional benefit to our understanding of what was carried out in the past by a small number of individuals," he said. "In fact, the most direct consequence of releasing them, I believe, would be to further inflame anti-American opinion and to put our troops in greater danger."
The photos are reportedly less disturbing than the Abu Ghraib images released in 2004. But military officials had expressed concern they could spark a backlash in the Middle East, where Obama is scheduled to deliver a much-anticipated speech to the Muslim world in June.
Local journalism is essential.
Give directly to The Spokesman-Review's Northwest Passages community forums series -- which helps to offset the costs of several reporter and editor positions at the newspaper -- by using the easy options below. Gifts processed in this system are not tax deductible, but are predominately used to help meet the local financial requirements needed to receive national matching-grant funds.
Subscribe to the Coronavirus newsletter
Get the day's latest Coronavirus news delivered to your inbox by subscribing to our newsletter.
---