News > Features
Broadway smash hardly an instant success
Thu., May 14, 2009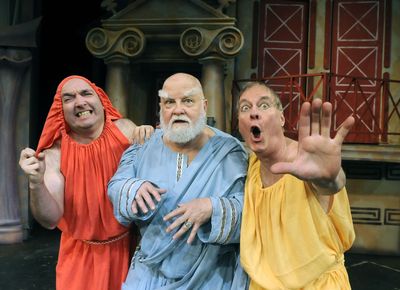 Frank Rich, the former theater critic of The New York Times, was a teenager in 1962 when he bought a ticket to the Washington, D.C., tryout of a new comedy set in ancient Rome called "A Funny Thing Happened on the Way to the Forum."
Fewer than 50 people were scattered through the 1,700-seat theater. Many of those left at intermission. The others sat in stern disapproval of the musical's broad and bawdy comedy.
The Washington critics were brutal: They predicted a Broadway fiasco.
And Rich's verdict? He loved every minute of it.
He later wrote that it was "about the funniest musical comedy ever written." (That's an opinion he never abandoned, even after he became the most influential theater critic in the nation.)
"A Funny Thing Happened on the Way to the Forum" went on to become what one critic called a "riotous and rowdy" Broadway smash, a hit movie and a staple of regional and summer stock theater.
The Spokane Civic Theatre did its own riotous and rowdy version 20 years ago, which means it's long past time to revive it.
This new production is directed by Diana Trotter and features Jerry Sciarrio as Pseudolus, Gary Pierce as Hysterium and Robert Wamsley as Senex. Scott Miller is the music director and conductor.
They'll be pratfalling their way through this wild farce, based loosely on the ancient Roman comedies of Plautus.
Plautus wrote for the masses; no joke could be too broad. Like those comedies, "Forum" features slaves outwitting their dim and pompous masters.
Expect to see plenty of mistaken identities, chase scenes and men disguised as women. It also features plenty of amorous shenanigans, involving both virgins and courtesans.
That original 1962 production featured the inimitable Zero Mostel as Pseudolus, Jack Gilford as Hysterium and David Burns as Senex.
The book was written by Burt Shevelove and Larry Gelbart – the same Larry Gelbart who would go on to fame as the creator of TV's "M*A*S*H." The result was a show that combined Plautus with Catskills-style American humor, with a touch of Sid Caesar zaniness thrown in.
"Forum" is also notable because it was the young Stephen Sondheim's first Broadway score as both composer and lyricist; he had previously been strictly a lyricist. The New York critics were less than impressed.
"Second-rate," sniffed one.
Sondheim certainly got the last laugh. Numbers such as "Everybody Ought to Have a Maid" and "Lovely" have become show-tune staples.
The show's famous opening tune, "Comedy Tonight," was a last-minute addition thrown in during the New York previews (it did not yet exist in the Washington, D.C., previews). That catchy and clever song is widely credited with setting the perfect tone for the show and turning around its fortunes.
People at the time were taken aback by what one critic called the show's "noisy, coarse and blue" comedy, but by the time the movie version was made in 1966, audiences had caught up with it.
It didn't hurt that it was directed by Richard Lester, fresh off his triumphs with the two Beatles movies, "A Hard Day's Night" and "Help!"
Mostel, Gifford, Phil Silvers and Buster Keaton supplied the vaudeville-style slapstick.
The show has been revived numerous times. The role of Pseudolus has proven to be especially fortuitous. Every single actor who has opened as Pseudolus in the three big Broadway productions – Mostel, Phil Silvers and Nathan Lane – has won a Best Actor Tony award.
The rest of the Civic cast includes Lauralynn "Lulu" Stafford, Jesse Ward, Callie Bley, Thomas Heppler, Shawn Hudson, George Morrison, Todd Kehne, David McCarthy, Shawna Nordman, Rachel Ewing, Jessica Shirley, Jess Liles, Leah Dach, Rachel Packard and Kim Kromholtz.
Local journalism is essential.
Give directly to The Spokesman-Review's Northwest Passages community forums series -- which helps to offset the costs of several reporter and editor positions at the newspaper -- by using the easy options below. Gifts processed in this system are not tax deductible, but are predominately used to help meet the local financial requirements needed to receive national matching-grant funds.
Subscribe to the Coronavirus newsletter
Get the day's latest Coronavirus news delivered to your inbox by subscribing to our newsletter.
---