A&E > Entertainment
From ventriloquist to parade chief
Thu., May 14, 2009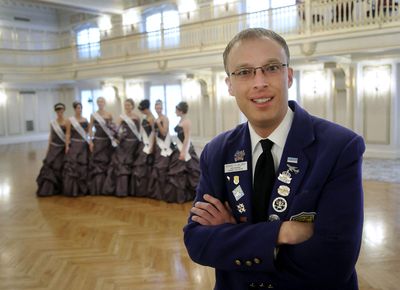 This Saturday, when the 71st annual Armed Forces Torchlight Parade kicks off, Michael Waldrip, the president of the Spokane Lilac Festival, will be fulfilling a lifelong dream.
As a child living in Spokane Valley, Waldrip's parents used to take him to the parade in Spokane.
"Each time I ran home to become another parade entry," Waldrip said. He loaded up his little red wagon with lilacs and his dog, Muffin, and paraded through his neighborhood while his neighbors watched.
Waldrip loves parades so much that when as president of the festival one of his first duties was to pick the theme, he chose, appropriately enough, "I Love a Parade."
He watches the Macy's Thanksgiving Day Parade every year on television and loves the parades in Spokane. He's not quite sure just what it is about parades he loves so much.
"I have no clue," he said. "I guess I need help."
At 39, Waldrip is the youngest president of the festival. He said he's been on the board of directors for 10 years and worked as a volunteer for five.
It's been a busy week for Waldrip, Queen Chloe Crittenden, the princesses and the festival board members – also known as purple-coaters. On Monday, the group had a luncheon at the Davenport Hotel with the Garden Clubs of Spokane – the organization that first put together the festival 71 years ago. The queen and princesses, notable in their long, flowing, strapless purple gowns and sparkling tiaras, were stopped by mothers with their daughters who asked them to pose for pictures.
Also this week is the All-City Civic Military Luncheon, the Royalty Luncheon, the Lilac Festival President's Dinner, the Cruizin' at the Falls Car Show and the big event, the parade, Saturday at 7:45 p.m.
The festival wraps up Sunday morning with a farewell breakfast, but the royal court and the purple-coaters still have a summer of traveling Washington, Oregon, Idaho and Canada as ambassadors of the Lilac City.
Wearing the purple coat is not Waldrip's only passion. He's also a ventriloquist who has traveled around the world with his puppet, Chester.
As a kid, he was fascinated with the Muppets, Shari Lewis and Edgar Bergen. When his parents bought him a collie dog hand puppet, he started learning and honing his ventriloquist skills. It was around this time when he wrote a letter to the creator of the Muppets, Jim Henson. To his surprise, Henson answered that letter.
"(He said) if I still have a passion for puppetry (as an adult) to look him up," Waldrip said. Years later, Waldrip was in London and visited Henson's studios there. Henson's agent gave him a tour of the offices, and Waldrip touched Henson's desk and looked at his Emmy Awards. He also had a chance to visit the creation shop in the studio where many of the puppets Henson worked with were created.
Waldrip made an appointment to visit with Henson, but Henson died just a few days before the appointment.
Another highlight of Waldrip's ventriloquism career came when he performed for former President Ronald Reagan.
"It was an absolute honor to meet him," Waldrip said.
Today, Waldrip works in the marketing department of Royal Plaza Retirement Center, putting his college degree in communications and public relations to use after a long time working in banking.
He's come a long way from when a psychologist told his parents he would never graduate from college due to dyslexia. He was placed into special education programs which didn't work out well. Eventually, his parents enrolled him in Valley Christian School, where he received one-on-one attention from his teachers.
He also had to catch up in school because of severe scoliosis – his spine was crushing his heart and lungs. As a young child, doctors put him in a back brace, which he wore for five years.
In 1985, he had back surgery to correct the problem, which included putting rods in his back from his neck to his waist. He said he had to relearn to walk and bend after that.
Despite these problems, he graduated from high school on time and moved on to the Master's College in Santa Clarita, Calif.
"I have overcome so much," Waldrip said. "I treasure each moment of life knowing that I am making an impact."
But this week, Waldrip's attention is on the parade and the Lilac Festival, showcasing the area's youth and members of the military.
Waldrip credits the success of each year's parade to its many volunteers, corporate sponsors and private donors.
"It takes an army of people to put on such a big parade," he said.
Local journalism is essential.
Give directly to The Spokesman-Review's Northwest Passages community forums series -- which helps to offset the costs of several reporter and editor positions at the newspaper -- by using the easy options below. Gifts processed in this system are not tax deductible, but are predominately used to help meet the local financial requirements needed to receive national matching-grant funds.
Subscribe to the Spokane7 email newsletter
Get the day's top entertainment headlines delivered to your inbox every morning.
---