Sports
Homers disappear
Thu., May 14, 2009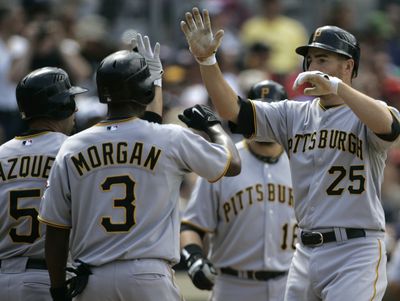 Hey, Adam LaRoche and Ross Gload … halt!
Soon after LaRoche became the first player to have a home run taken away following a video replay review, Gload lost one the same way Wednesday night when umpires reversed their call.
LaRoche wound up with a double for Pittsburgh at PNC Park. Gload's pinch-hit drive was finally called foul at Milwaukee and he eventually struck out. Both players had already rounded the bases when umps changed the original call.
"If I could have bet the day this started, I would have put a lot of money on myself to be the first," LaRoche said after the Pirates beat St. Louis 5-2. "That's kind of the way it goes. I can laugh those things off now, but if there's a couple of guys on and we lose by one, it's huge."
Major League Baseball started using replay last Aug. 28 to check whether balls were home runs or not. There have been a total of 14 calls reviewed, with four reversals overall.
Last year, Carlos Pena and Bengie Molina were awarded home runs upon further review. There have been seven plays reviewed this year, with the drives by LaRoche and Gload resulting in reversals.
Manuel tabs Torre
Joe Torre is going back to the All-Star game.
Torre said Philadelphia Phillies manager Charlie Manuel asked him to be part of the National League coaching staff for the Midsummer Classic in St. Louis on July 14.
"It's a privilege and an honor," Torre said before his Los Angeles Dodgers played the Phillies in the second game of their three-game series. "I'm definitely going."
Torre is 5-0-1 as a manager in the All-Star game.
He led the American League team to a victory in 2004 in his last appearance as manager.
Clearing the bases
Tom Glavine had another successful bullpen session for the Atlanta Braves, and the 305-game winner thinks he could be pitching in the major leagues by the end of the month. … Carlos Delgado could be put on the disabled list by the New York Mets as soon as Friday because of his injured right hip. … St. Louis is missing two-thirds of its starting outfield after putting right fielder Ryan Ludwick on the 15-day disabled list with a strained right hamstring. The Cardinals are also missing starting center fielder Rick Ankiel, who has been out since May 5 with a right shoulder injury.
Local journalism is essential.
Give directly to The Spokesman-Review's Northwest Passages community forums series -- which helps to offset the costs of several reporter and editor positions at the newspaper -- by using the easy options below. Gifts processed in this system are not tax deductible, but are predominately used to help meet the local financial requirements needed to receive national matching-grant funds.
Subscribe to the sports newsletter
Get the day's top sports headlines and breaking news delivered to your inbox by subscribing here.
---