News > Features
On the Wall
'Body of Work' for the clothes minded
Thu., May 14, 2009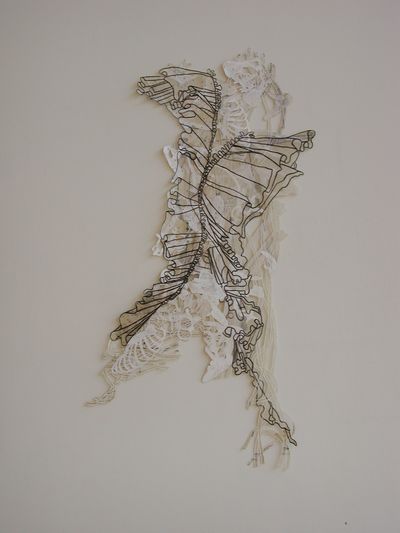 If you've been to Europe, you've likely seen laundry hanging out to dry, pinned onto clotheslines suspended from overhead balconies of apartment buildings – one atop another, zigzagging modern and historic architecture alike – or billowing gracefully across pastoral country landscapes.
Skirts, dresses, trousers, shirts and undergarments flap openly in the wind, revealing much about their inhabitants.
Contemporary artist Gail Grinnell's "Body of Work" exhibition at Lorinda Knight Gallery captures the flitting human spirit that is "tethered lightly" to the body, referencing the clothing that the spirit dons on this earth, from its layers and folds of human anatomy to its clothbound extremities.
The work was inspired by Richard Wilbur's 1956 poem, "Love Calls Us to the Things of This World," in which the poet likens fresh morning laundry billowing on a line to awakening human spirits, floating off, yet pinned to the pulleys.
"As long as you're on this earth, you're tethered," said Grinnell. "You love and hate the world you inhabit. It's part of one's waking consciousness. It's uncomfortable being in your own body sometimes, and sometimes it's a complete joy."
The poem started resonating with Grinnell in 2006, when she hung her "Bitter Love" series at the Francine Seders Gallery in Seattle, where she now lives.
Grinnell creates the many layers of her artwork in a production line, first making large-scale line drawings of sewn sections of clothing, like the ruffle of a neckline, a dress zipper, or the pleats of an inverted skirt.
In another sweep, the studio will be awash with the inner workings of the human body, the coils of the intestines entwined with bones, tendons and blood vessels.
Like a seamstress, Grinnell layers the transparent drawings, made from black or white ink on spun polyester and silk fabrics, with constructive interfacing to stiffen them up.
She adds translucent layers of vintage clothing patterns she inherited from her late mother, hanging the sheer, clear-acrylic-coated skins to dry on clotheslines in her studio between stages of development. She later cuts out the shapes like pattern pieces to fit into her free-flowing contours.
"She's always been interested in the body and also in sewing and in clothing the body," said Spokane gallery owner Lorinda Knight, who has represented Grinnell since 2000.
"Because she's not working in the inner frame (of a canvas) anymore, it frees them up," she said of Grinnell's latest pieces. "They pulse with life."
The clothing patterns in Grinnell's work might suggest the plans we make for our lives, the patterns we make and leave behind, and our desires.
After choosing a pattern, there are infinite ways an article of clothing can be designed, by varying fabrics, textures, notions, the placement of the bias, colors of thread, and adornments.
Repetition and misplaced anatomy suggest the way that best laid plans go astray, becoming entangled with the bones and blisters of our reality.
The enormous size of some of the pieces – up to 10 feet tall – reflects the boundless spirit that is released, yet tethered in Grinnell's vision.
Selected works from Grinnell's "Bitter Love" series are included in "Body of Work," as well as pieces created during her coastal artist residencies in Mojacar, Spain, in 2007, and Ballycastle, Ireland in 2008.
"In Spain, I was literally sitting on an archeological Moorish/Roman site," said Grinnell. "There was an old dig there," where bones and fossils were unearthed.
"Flutter" depicts a walking human figure with adjoining ruffles for wings –a butterfly embarking on a journey, yet zipped to the spine. A rib cage is placed in the leg, literally holding the man's breath and anchoring him to the ground.
The image is pinned to the wall with straight pins, creating a pleasing sense of lightness, translucency and movement.
During last year's residency at The Ballinglen Arts Foundation in Ireland, Grinnell was inspired by a very old bogland excavation.
"Ireland was very moody and full of ancestors," said Grinnell. "It was all around me. Both sites were like that."
Pieces titled "Eddy," "Rise," "Angel" and "Bog" are among those she composed in her temporary Irish studio. Bones are incorporated into the layers, mysteriously giving rise to a feeling of buoyancy rather than sinking.
"Arlene," at 9 feet tall, is a jellyfish surging upward, composed of ruffles stitched together with vertebrae, dragging tendrils of Celtic knots that twist into skeletons. Softly pleated fabric sections double as ligaments.
Movement and transparency, replete with vintage patterning, create a haunting, resilient beauty, knotted and tied to this world in otherworldly ways.
Local journalism is essential.
Give directly to The Spokesman-Review's Northwest Passages community forums series -- which helps to offset the costs of several reporter and editor positions at the newspaper -- by using the easy options below. Gifts processed in this system are not tax deductible, but are predominately used to help meet the local financial requirements needed to receive national matching-grant funds.
Subscribe to the Coronavirus newsletter
Get the day's latest Coronavirus news delivered to your inbox by subscribing to our newsletter.
---