News > Features
Their troubles keep adding up
Thu., May 14, 2009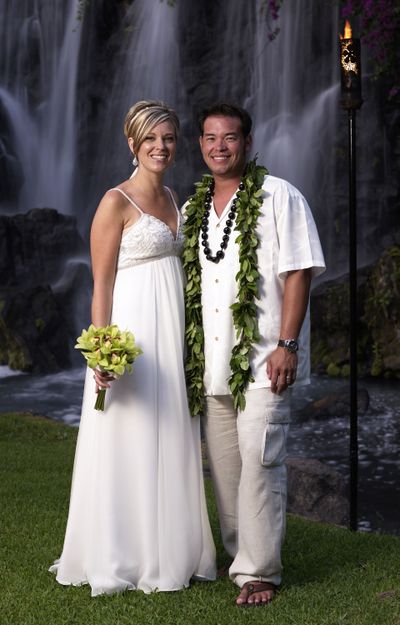 Jon and Kate Gosselin took more media pounding Wednesday amid speculation how the harsh spotlight on their marriage would affect their reality series, "Jon & Kate Plus 8."
On its Web site, Us Weekly described an over friendly relationship between Kate Gosselin and her married bodyguard, Steve Neild, that "caught the attention of her husband, Jon – and has become the talk of many locals" in their Pennsylvania community.
And People magazine's Web site quoted her as saying she and her husband have been struggling for months.
"I don't know that we're in the same place anymore, that we want the same thing," said Kate Gosselin, who has denied having an affair with Neild. "I've been struggling with the question of 'Who is this person?' for a while."
For his part, Jon Gosselin has denied cheating with a 23-year-old schoolteacher.
"Jon & Kate Plus 8," TLC's most popular series, attracts an average audience of more than 2.8 million viewers as the Gosselins and their eight children face the everyday challenges of family life.
A new season is set to premiere May 25.
First time she's been called that
Paulina Porizkova has been canned as a judge on "America's Next Top Model."
"Do you know why I'm in Los Angeles, besides seeing you?" … Because I'm looking for a job. Because I was fired by 'America's Next Top Model' on my birthday," she told Craig Ferguson on Tuesday's "The Late Late Show."
Added the 44-year-old model/actress: "It seemed that 'America's Next Top Model' had gotten too fat, and they needed to cut some fat – and the fat was me."
Acting on her misgivings
Former Miss USA Shanna Moakler has resigned as executive director of the Miss California USA pageant, a day after controversial titleholder Carrie Prejean was allowed to keep her crown.
Moakler said in a statement issued by her publicist Wednesday that she no longer believes in the organization.
She had angrily accused Prejean of violating the contract she signed with pageant organizers by speaking out repeatedly on behalf of organizations opposed to gay marriage and by failing to disclose she had posed nearly nude for photographs as a teenager.
She's just a dirty, dirty girl
A burglar alarm led police to Lindsay Lohan's house on Tuesday, where officers found evidence of a potential break-in and ransacking.
Turns out, the mess belonged to Lohan – who wasn't home at the time – not the burglars, police said.
They said officers had to ask, "Is it normally like this, or did the intruders do it?"
The birthday bunch
Singer-bassist Jack Bruce (Cream) is 66. Movie producer George Lucas is 65. Musician David Byrne (Talking Heads) is 57. Director Robert Zemeckis is 57. Actor Tim Roth is 48. Guitarist C.C. DeVille (Poison) is 47. Singer Ian Astbury (The Cult) is 47. Lip-syncher Fabrice Morvan (Milli Vanilli) is 43. Singer Raphael Saadiq (Tony! Toni! Tone!) is 43. Actress Cate Blanchett is 40. Singer Danny Wood (New Kids on the Block) is 40. Director Sofia Coppola is 38. Actress Amber Tamblyn is 26. Actress Miranda Cosgrove ("iCarly") is 16.
Local journalism is essential.
Give directly to The Spokesman-Review's Northwest Passages community forums series -- which helps to offset the costs of several reporter and editor positions at the newspaper -- by using the easy options below. Gifts processed in this system are not tax deductible, but are predominately used to help meet the local financial requirements needed to receive national matching-grant funds.
Subscribe to the Coronavirus newsletter
Get the day's latest Coronavirus news delivered to your inbox by subscribing to our newsletter.
---