News > Features
Jay's walking away in style
Fri., May 15, 2009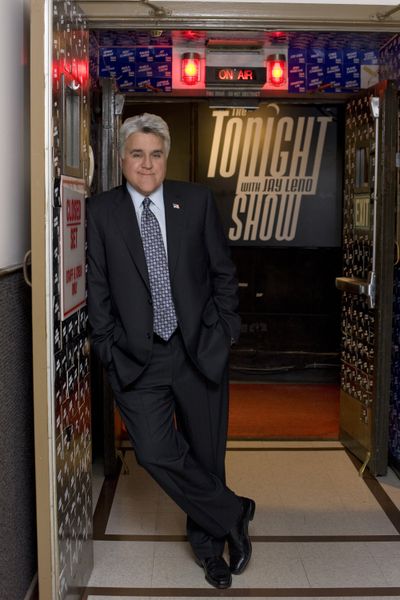 In a neat bit of promotion, Jay Leno's last guest on the "Tonight" show will be the man who's taking over for him: Conan O'Brien.
James Taylor will perform on Leno's May 29 finale, the late-night host told a teleconference Thursday, and some surprises are in store.
"I have something really unusual and different planned, something really out of left field that we're going to end on," Leno said.
"It's something really personal. I think it will make people smile."
Taylor was a sentimental choice: Leno said that when he left his native Boston for his comedy career, the pop star's music was playing on the radio.
Other big names making the cut for Leno's final week include Mel Gibson, Prince and Billy Crystal – who was Leno's first guest when he took over from Johnny Carson in 1992.
Leno joked that his last show will look back at his 17 years on "Tonight" because that's "easier than writing new stuff."
O'Brien, who turned NBC's "Late Night" over to Jimmy Fallon in March, becomes "Tonight" host on June 1. Next fall, Leno will begin a daily 10 p.m. show on NBC.
Idled too soon
Danny Gokey says he knew all day Wednesday that he would be voted off "American Idol" that night.
"I wanted to go for the gold just like (the other finalists) did, and it didn't work out that way," he told reporters Thursday.
Gokey, 29, auditioned for the show only four weeks after his wife Sophia, a big "Idol" fan, died last summer from heart surgery.
Triggering memories
A new John Lennon exhibit at New York's Rock & Roll Hall of Fame Annex is particularly emotional for his widow, Yoko Ono.
Besides Lennon's guitars, letters and other personal effects, it also includes a paper bag containing the bloody clothes from the night he was shot to death in December 1980.
"It was hard to include. And I thought it might be criticized as well," said Ono, who wanted to show the effects of gun violence.
Guardian angel
Farrah Fawcett's longtime companion, Ryan O'Neal, said he plans to watch "Farrah's Story" with her at her Los Angeles home tonight (9 p.m., KHQ-6 in Spokane).
The documentary, produced by Fawcett and friend Alana Stewart, chronicles the 62-year-old actress' battle against anal cancer.
"She's heavily medicated," O'Neal said. "We're going to take some of these medications down so she's lucid and sharp to watch herself. I think she'll take great pride in this."
Quoteworthy
Comedian Robin Williams, on his recent heart surgery: "I have one new valve and a repaired valve. I have a cow valve, which is great, and the grazing's been fun."
The birthday bunch
Actor Joseph Wiseman ("Dr. No") is 91. Actress-singer Anna Maria Alberghetti is 73. '60s icon Wavy Gravy is 73. Singer Trini Lopez is 72. Actress-singer Lainie Kazan is 69. Country singer K.T. Oslin is 67. Musician Brian Eno is 61. Actor Chazz Palminteri is 57. Actor David Charvet ("Melrose Place") is 37. Actor David Krumholtz ("Numb3rs") is 31. Actress Jamie-Lynn Sigler ("The Sopranos") is 28.
Local journalism is essential.
Give directly to The Spokesman-Review's Northwest Passages community forums series -- which helps to offset the costs of several reporter and editor positions at the newspaper -- by using the easy options below. Gifts processed in this system are not tax deductible, but are predominately used to help meet the local financial requirements needed to receive national matching-grant funds.
Subscribe to the Coronavirus newsletter
Get the day's latest Coronavirus news delivered to your inbox by subscribing to our newsletter.
---