News > Features
Mohr's always been a stand-up guy
Fri., May 15, 2009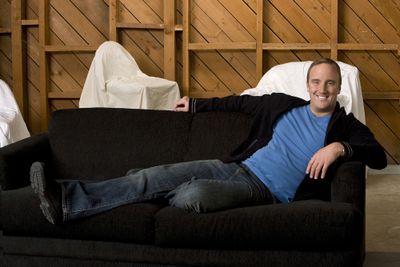 Jay Mohr has packed a lot of variety into his career:
• His stint on "Saturday Night Live" from 1993 to 1995.
• His role as the "other" sports agent in "Jerry Maguire."
• His hosting stint on FOX's "NFL This Morning."
• His recurring role on CBS' "The Ghost Whisperer."
• His latest role, as the exasperated title character on CBS' "Gary Unmarried."
Surprisingly enough, that last role is what has finally given him the time to return to his original gig: stand-up comedy.
That's what he'll be doing on Wednesday at the Martin Woldson Theater at The Fox. You might call it two hours of "Jay Unfettered."
"I talk a lot about Obama," he said, by phone from Los Angeles. "Mostly I talk about my son and my family; these children we have, these little homeless people that live in our houses and run our lives.
"Then I'll probably do at least 20 minutes of impressions: Christopher Walken, Al Pacino, Tracy Morgan, Harvey Keitel, people from the Food Network."
No stand-up show is ever the same, because Mohr has six or seven hours of material to choose from. He likens it to sitting at a giant, '50s telephone switchboard and plugging in stories.
"My job is to keep mixing and matching, connecting all of those different stories," he said. "Connecting different parts of the act. I improvise a lot. I never do anything by rote."
Mohr does 80 stand-up gigs a year, because with "Gary Unmarried," he finally has a fixed schedule that allows him the freedom to book dates on his off days.
That's not the only thing he loves about the show, in which he plays a recently divorced dad. He also likes it because he gets to … well, explode.
"For 22 minutes of TV, Gary starts by walking in a room annoyed, then he becomes more annoyed and then he crescendos in a giant annoyed speech," said Mohr.
He said that all he has to do is channel the archetype of all annoyed sitcom husbands: "I just think of Jackie Gleason on 'The Honeymooners.' "
The role of Gary, however, was certainly not a case of typecasting.
"Gary seems to shout a lot," said Mohr. "I swear a lot, but he shouts a lot more than me. I'm never annoyed the way Gary is. Ever."
In fact, Mohr sounds perfectly content with his life – and that shows up in his stage routine.
"My stand-up act has changed about as much as an act could change, without wearing a costume or turning to props," he said.
"I used to go up on stage trying to get girls and trying to impress everybody. Now, I have the world's greatest woman at home with me.
"When I go out on stage, I have a job to do. And like anyone else in a specialized field, I want to do it as great as possible."
In between, Mohr fits in various guest roles on other shows. He described what one recent weekend was like:
"I took the red eye Thursday and went to JFK, took a nap, did my stand-up show, woke up the next morning, took the ferry to Connecticut, crossed Long Island Sound, did two shows in Boston on Saturday, flew back to L.A. Sunday night and was back on the set at 6 a.m. Monday."
Sure, it's hectic, but that doesn't bother him.
"There's money out there," he said. "I'd better go pick it up."
Local journalism is essential.
Give directly to The Spokesman-Review's Northwest Passages community forums series -- which helps to offset the costs of several reporter and editor positions at the newspaper -- by using the easy options below. Gifts processed in this system are not tax deductible, but are predominately used to help meet the local financial requirements needed to receive national matching-grant funds.
Subscribe to the Coronavirus newsletter
Get the day's latest Coronavirus news delivered to your inbox by subscribing to our newsletter.
---