News > Spokane
Hubert Van Es, photographer
Sun., May 17, 2009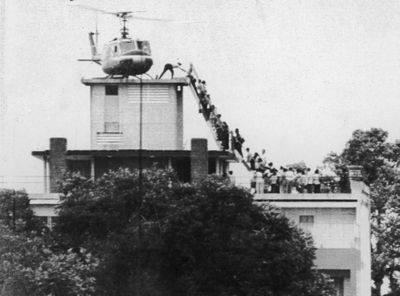 Hubert Van Es, a Dutch photojournalist who captured one of the most memorable but widely mischaracterized images of the Vietnam War, a U.S. helicopter taking on evacuees from a rooftop in Saigon as North Vietnamese troops closed in on the South Vietnamese capital, died May 15 in Hong Kong of a brain hemorrhage. He was 67.
Van Es was working for United Press International when he took the picture April 29, 1975. The next day, the communist forces captured Saigon, ending the Vietnam War and dealing the United States a humiliating defeat. The image taken by Van Es endured as a symbol of the desperate U.S. evacuation and the broader American debacle in Vietnam.
Because of an editor's error, the photo's caption said the helicopter was evacuating people from the roof of the U.S. Embassy. The Air America UH-1 Huey chopper was actually perched atop a downtown apartment building where the CIA station chief and many of his officers lived, and when the overloaded craft took off, it left behind many distraught Vietnamese employees of U.S. government agencies.
According to his widow, Annie Van Es, he earned no royalties from the helicopter evacuation photo apart from a one-time bonus of $150 from UPI.
William A. Kerr, Catholic theologian
Monsignor William A. Kerr, a leading human rights figure whom serial killer Ted Bundy sought out to be his spiritual counselor on death row, died Wednesday. He was 68.
Kerr was hospitalized May 3 after suffering a stroke as he concluded celebrating a Mass.
"Monsignor Kerr traveled all over the globe, touching lives everywhere as he worked to build a more peaceful world," Florida State University President T.K. Wetherell said in announcing his death. "The world has lost a true visionary."
Kerr in 1978 administered last rites to a woman bludgeoned to death in her sorority house near the Florida State campus by Bundy, who later turned to the priest for spiritual counseling. Kerr last spoke with Bundy two days before the condemned man died in Florida's electric chair in January 1989.
Frank Aletter, character actor
Frank Aletter, a veteran character actor who starred in the 1960s situation comedies "Bringing Up Buddy" and "It's About Time," has died. He was 83.
Aletter, who was once married to actress and former Miss America Lee Meriwether, died of cancer Wednesday at his Los Angeles home, said his daughter Kyle Oldham.
Aletter, a 1950s Broadway actor whose credits included the musical comedy "Bells Are Ringing," appeared in a number of movies, including "Mister Roberts" and "Tora! Tora! Tora!," but he was best known for his extensive work in television.
William Seidman, FDIC chief
L. William Seidman, who led the federal response to the savings and loan crisis of the late 1980s as chairman of the Federal Deposit Insurance Corp., died May 13 at a hospice in Albuquerque, N.M., of complications from pneumonia. He was 88.
Seidman's defining role began in 1985, with his appointment by President Ronald Reagan to lead the FDIC, the agency that protects bank depositors against loss. The nation's financial system was descending into a crisis caused by ill-considered lending. Hundreds of financial firms would fail, leading Congress to create the Resolution Trust Corp. in 1989 to sell the lenders' assets at the best possible price.
Seidman was placed in charge of the massive operation, a job he jokingly referred to as combining "all the best aspects of an undertaker, an IRS agent and a garbage collector."
After leaving the FDIC in 1991, Seidman became a frequent commentator on federal regulation of the financial industry. He was employed by the business network CNBC, which recalled in a tribute on its Web site Wednesday that Seidman recently submitted his first blog contribution. The post was handwritten on three sheets of notebook paper.
Stephen Bruton, musician
Stephen Bruton, a Texas musician long admired and much in demand as much for his astute guitar work as for his insights as a songwriter, died May 9 of complications of cancer that he'd been battling for several years. He was 60.
Bruton, who had played with Kris Kristofferson for nearly 40 years and whose songs had been recorded by Bonnie Raitt, Willie Nelson, Waylon Jennings, Jimmy Buffett and numerous others, died at the home of his friend since childhood, musician-producer T Bone Burnett, with whom he'd recently completed work on a film, "Crazy Heart," that Burnett is producing and for which he asked Bruton to produce the music.
Bruton released five albums as a solo artist, and was the guitarist of choice for many longtime associates when they needed an evocative sound, instrumental color, to-the-point solo or melodic idea to complement their songs.
From wire reports
Local journalism is essential.
Give directly to The Spokesman-Review's Northwest Passages community forums series -- which helps to offset the costs of several reporter and editor positions at the newspaper -- by using the easy options below. Gifts processed in this system are not tax deductible, but are predominately used to help meet the local financial requirements needed to receive national matching-grant funds.
Subscribe to the Coronavirus newsletter
Get the day's latest Coronavirus news delivered to your inbox by subscribing to our newsletter.
---