Sports
Lackey lasts two pitches
Sun., May 17, 2009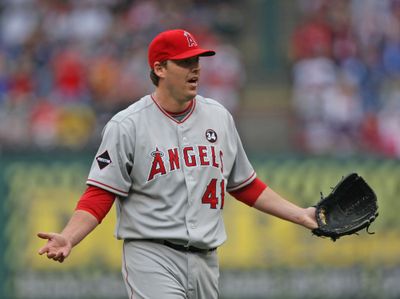 Los Angeles Angels starter John Lackey was ejected after throwing only two pitches in his season debut Saturday in Arlington, Texas.
The first pitch thrown by Lackey, activated from the disabled list to start the game, went behind the head of Texas Rangers second baseman Ian Kinsler, who homered twice Friday night. The next pitch hit Kinsler in the side of his upper body. Home plate umpire Bob Davidson immediately ejected Lackey.
Manager Mike Scioscia argued at length with Davidson and crew chief Tim Tschida to no avail. Lackey, who had been sidelined because of a forearm strain, raised his arms on the mound with a look of disbelief on his face.
Lackey is the first starter in the majors to throw only two pitches in a game since Colorado's Zach Day on Sept. 16, 2005. Day was knocked out of that game at Arizona when a line drive broke his right thumb.
Matsuzaka heals
Daisuke Matsuzaka could be back on the mound by the end of next week for the Boston Red Sox.
Manager Terry Francona hinted before the Red Sox played Seattle that Matsuzaka could come of the disabled list soon.
Matsuzaka made his third rehab start with Triple-A Pawtucket on Friday night in Toledo. The right-hander gave up two runs on three hits while striking out nine in five innings. His next step is to rejoin the Red Sox in Boston after an off day on Monday.
Matsuzaka has been on the disabled list since April 15 with a shoulder strain.
Clearing the bases
Carlos Delgado was placed on the 15-day disabled list with an impingement of his right hip, and Mets manager Jerry Manuel believes it could be a while before he's back. It's unclear whether Delgado will opt to have surgery – something Manuel said will be up to his star player and doctors. … Manager Terry Francona said that struggling David Ortiz would miss the final two games of Boston's road trip and not start again until Tuesday against Toronto. Francona stressed he's not benching his slugger, but wants to give Ortiz a chance to clear his head and relax. … Texas closer Frank Francisco was put on the 15-day disabled list with right biceps tendonitis. He is tied for the A.L. lead with nine saves.
Local journalism is essential.
Give directly to The Spokesman-Review's Northwest Passages community forums series -- which helps to offset the costs of several reporter and editor positions at the newspaper -- by using the easy options below. Gifts processed in this system are not tax deductible, but are predominately used to help meet the local financial requirements needed to receive national matching-grant funds.
Subscribe to the sports newsletter
Get the day's top sports headlines and breaking news delivered to your inbox by subscribing here.
---