Sports > Outdoors
One-Fly generates buzz in trout circles
Sun., May 17, 2009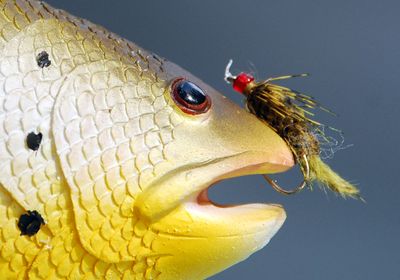 It's a contest of confidence, durability, technique and presentation.
We're not talking about "Dancing with the Stars," but rather the Spokane Fly Fishers' annual One-Fly fishing contest, which attracted 25 participants May 9 at Badger Lake.
Bill Lundin of Spokane won the event by catching and releasing 15 trout between 11 a.m. and 1:30 p.m. on a soft-hackle attractor pattern called the Olive Willy.
In past events, Lundin chose patterns such as the Bloody Mary and Stillwater Nymph, but he pre-fished Badger Lake two weeks ago and found the size 12 Willy to be a top performer among the flies he tested.
"I learned about the pattern from Al Peterson of Swede's Fly Shop (in Spokane)," Lundin said. "It resembles a damselfly nymph, with a pheasant rump hackle, olive chenille body, yellow marabou tail and a red bead head. I got the instructions and tied some up."
Winning a one-fly contest requires finesse, and a fine line between a leader that's thin enough to avoid a trout's detection yet strong enough to handle anything Badger Lake could deliver.
Lundin's 4X tippet withstood a 23-inch rainbow he netted after five minutes and hoisted for a photograph before releasing it back into the lake.
His fly was looking sparser and bedraggled as the contest concluded, but was still catching fish right up to the end, he said.
The winning technique involved a Cortland clear-tip intermediate fly line he trolled in shallow water from his personal pontoon with the help of an electric motor.
"It seemed that the people who did the best were those who covered more water, trolling," Lundin said. "Sounds like trolling might not be allowed next year," he added with a smile and a shrug.
"This is funny," said Jeff Voigt, who took time out from his fishing to photograph Lundin with his biggest fish. "I was using the same fly and not doing nearly as well as Bill, but I wasn't using an electric motor.
"Fifteen years ago, I won the one-fly contest by catching 42 fish at West Medical Lake in two hours. I was trolling, and the club decided that wasn't the way to go. But that was then, and now nobody remembers that."
Peterson said the Olive Willy was concocted around 1990 as the signature fly for his shop, which was then located in Woodinville, Wash.
"We looked at good flies, such as the Carey Special and the Six Pack and make changes and improvements," Peterson said. "For instance, the body of the Six Pack gets torn up after you catch a few fish, so we used chenille, which is more durable."
One of the shop's fly tiers, William Survey, took the lead and came up with the idea for the red bead head, Peterson said. "So it's named after him. The key is the color of the rump, the fluorescent yellow.
"We sold 650 dozen of the pattern last year," he said. "It's the most popular fly we sell in the shop."
Lundin won a $30 gift certificate good at several area businesses for his performance. "I think it's only right that I use it at Swede's," he said.
Local journalism is essential.
Give directly to The Spokesman-Review's Northwest Passages community forums series -- which helps to offset the costs of several reporter and editor positions at the newspaper -- by using the easy options below. Gifts processed in this system are not tax deductible, but are predominately used to help meet the local financial requirements needed to receive national matching-grant funds.
Subscribe to the sports newsletter
Get the day's top sports headlines and breaking news delivered to your inbox by subscribing here.
---