Sports
See you later, boys
Filly Rachel Alexandra wins Preakness Stakes
Sun., May 17, 2009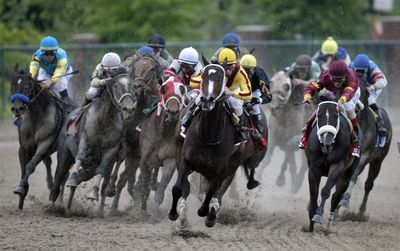 BALTIMORE – Her previous owner refused to enter her in the Preakness Stakes, believing it was unseemly to race a filly against a field of muscular colts.
Then, last week, after her new owners ponied up the $100,000 fee required to get Rachel Alexandra an 11th-hour berth in the second leg of the Triple Crown, a cabal of rival owners tried blocking her entry – loathe to find out what horse racing's super filly might achieve if admitted to their thoroughbred boys' club.
But on Saturday, Rachel Alexandra showed them.
After a slight stumble at the start, the 3-year-old with the striking white blaze quickly composed herself, extended her long legs and dug her hooves into the crumbly dirt at Pimlico Race Course and thundered on to become just the fifth filly to win the Preakness and the first in 85 years.
Only Mine That Bird, the come-from-behind 50-to-1 upstart who won the Kentucky Derby, proved remotely her equal.
For the second time in as many races, the diminutive gelding mounted a breathtaking charge down the final stretch to close within one length.
But the outcome was never in doubt to Calvin Borel, the jockey who made history by passing on the opportunity to follow up his Kentucky Derby victory atop Mine That Bird in the Preakness.
Borel insisted on riding Rachel Alexandra, who'd won his heart long ago. They had won five consecutive races together against the country's top females – including her 20-length rout in the Kentucky Oaks on the eve of the Derby. So if Rachel Alexandra was going to compete against boys at Pimlico, Borel was determined to be on board.
And together, they delivered a triumph, covering the 1 3/16 -mile distance in 1:55.08 to claim the $660,000 victor's share of the $1.1 million purse and hoist the coveted Woodlawn Vase.
"She's the best horse in the country, bar none," Borel gushed after thanking her owners and trainers, Preakness officials, his parents and nearly everyone he'd met for the glorious opportunity.
Mine That Bird finished second, steered ably by Hall of Fame jockey Mike Smith, followed by Musket Man, who matched his third-place finish in the Derby.
Entering the race, Rachel Alexandra had won her previous five races by a combined 431/2 lengths, crushing every competitor she faced. But in the 13-horse field at Pimlico, she had to battle hard. Borel felt her struggling underneath him, and for the first time in their joyful association, he had to yank on her bit to get it. The horse's response, straining and stretching to keep her rivals behind her – first Big Drama and then Mine That Bird – made her triumph even more impressive.
While some saw it as a victory for every girl who wanted to play a sport and was told she couldn't, her jubilant owner, Jess Jackson, dismissed gender as a factor in determining a horse's potential for greatness.
"Gender doesn't matter," Jackson said. "A thoroughbred wants to run! If a filly is as good as the colts, she ought to compete. That was my position, and that's why we came."
Asked whether he planned to enter Rachel Alexandra in the June 6 Belmont Stakes, the third leg of racing's Triple Crown, Jackson said he would look to the horse for the answer.
"The horse always tells you whether they're ready," Jackson said. "We'll wait for three or four days and see how she comes out of the race.
"Would we love to race? Yes. Could she win? We think so. We've already shown she can run with colts."
The race was held against a backdrop of uncertainty, with the Canadian-based owner of the event, Magna Entertainment Corp., in bankruptcy court, and Maryland's horse-racing industry desperate to shore up its eroding revenue and dwindling fan base.
Nonetheless, Maryland Gov. Martin O'Malley sought to allay fears that the state's biggest sporting event would be carted away, vowing to do everything in his power to make sure that the Preakness continues to thrive – and continue to thrive in Maryland.
If Pimlico officials expected to reverse their attendance slide by prohibiting infield revelers from bringing their own supply of beer and libations, they sorely miscalculated.
Instead of creating a more up-scale, welcoming environment for families, the policy backfired. Fans stayed away in droves, balking at the opportunity to buy their own drinks on site. And the result was a sparse, lifeless atmosphere that sapped the buzz from what had the makings of a riveting competitive clash.
It was a dismal race-day turnout – just 77,850, the smallest crowd since 1983. And it represented a precipitous drop from last year's race, which drew 112,222.
And that figure was down from the year before, when 121,263 showed up for the 2007 Preakness.
But the feel-good story line represented a sorely needed boost for the horse-racing industry, coming one year after the filly Eight Belles broke both front ankles and had to be euthanized on the track finishing second in the Kentucky Derby.
That tragedy, just two years after 2006 Derby winner Barbaro shattered a back leg in the early stages of the Preakness, raised troubling questions about track safety standards and the industry's treatment of its young thoroughbreds.
Jackson said his team of veterinarians and trainers had carefully monitored Rachel Alexandra's health to make sure she was fit for the race.
"I think she could have been even faster if she had a little more time and she had a turn that didn't break away from her as she was running," Jackson said. ""But at the same time, she showed the heart and skill of a champion."
Local journalism is essential.
Give directly to The Spokesman-Review's Northwest Passages community forums series -- which helps to offset the costs of several reporter and editor positions at the newspaper -- by using the easy options below. Gifts processed in this system are not tax deductible, but are predominately used to help meet the local financial requirements needed to receive national matching-grant funds.
Subscribe to the sports newsletter
Get the day's top sports headlines and breaking news delivered to your inbox by subscribing here.
---