Sports
Despite success, Briscoe second fiddle to teammate
Thu., May 21, 2009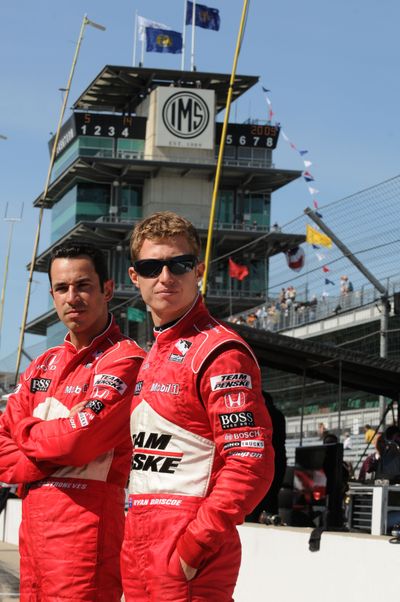 INDIANAPOLIS – Ryan Briscoe is a little surprised to find himself mentioned among the favorites for Sunday's Indianapolis 500.
It's no surprise to the rest of Penske Racing.
Team president Tim Cindric calls him a producer, and two-time Indy winner Helio Castroneves says Briscoe is the consummate teammate.
Briscoe, a 27-year-old Australian, acknowledges he's driving with more confidence on ovals this season – and he should be.
In the past 12 months Briscoe has won more races (three) than his better-known teammate, recorded seven top-five finishes and moved to second in this season's standings, one point behind leader Tony Kanaan.
Breakthrough? No, just another day in the shadow of the charismatic Castroneves, who was recently on trial for tax evasion and acquitted of most charges.
"I really don't mind," Briscoe said. "Helio's been around a lot longer, he's won a lot more, he's had a lot of publicity outside of racing, too."
Briscoe joined the series in 2005 with Target Chip Ganassi.
Back then, he was better known for getting into accidents than running up front. Seven of his first 14 IndyCar starts ended in crashes, and he wound up running a part-time schedule with the lower-budget Dreyer & Reinbold team in 2006.
But Roger Penske saw potential. He hired Briscoe for his American Le Mans Series team in 2007, and his son, Jay, the co-owner of Luczo Dragon Racing, gave Briscoe a chance to drive at Indy in 2007. Briscoe started seventh and finished fifth in that race.
When Sam Hornish Jr. left for NASCAR following that season, opening a seat on the IRL's most prominent team, Penske disregarded suggestions Briscoe was a risk and brought him on board.
At first, things didn't go well.
Briscoe finished 19th and 23rd in last season's first two races, going out in accidents both times. At Indy, he started third but wound up 23rd after colliding with Danica Patrick on pit road, prompting Patrick to stomp toward his pit in disgust.
The accident led to a meeting with Penske and Cindric, which seemed to change everything. Briscoe won at Milwaukee the next week and Mid-Ohio later, finished in the top 10 nine times in the last 12 points races, then won again in this year's season-opener at St. Petersburg before qualifying second for Sunday's race.
What's changed?
"Oval experience," Briscoe said. "It's hard to put a handle on one thing, but I had only been in a handful of oval races going into my first year. I had to turn laps and do races."
Briscoe has been as good as any driver on the circuit since June 2008. But he's still relatively unknown.
Castroneves, a Brazilian, and Patrick remain the most marketable personalities in IndyCars. Brazil's Kanaan, the 2004 points champ, has been arguably the most consistent driver. Marco Andretti and Graham Rahal have big followings because of their surnames, youth and early wins. And Scott Dixon and Dario Franchitti are the last two Indy winners and points champs.
"Yes, Helio, has gotten a lot more accolades," Cindric said. "But he's been here a lot longer, too. We've had this before with Gil (de Ferran) and others, and I have told Ryan that it will come in time. The biggest thing now is he's getting results, and he doesn't have to answer those questions about whether he was the right guy to replace Sam."
Certainly not after this month at Indy.
After qualifying second, he made a gutsy move by withdrawing the run to take a shot at Castroneves' pole-winning speed. The result: Briscoe qualified second again, at 224.083 mph, behind Castroneves' 224.664.
That puts Briscoe in the middle of the first row for Sunday's race, sandwiched between Castroneves and Franchitti, who's back after spending part of last season on the NASCAR circuit, with Rahal, Dixon and Kanaan right behind.
Castroneves will be keeping watch for Briscoe.
"He's not here because he's pretty or lucky," he said. "He's here because he's talented and strong."
Local journalism is essential.
Give directly to The Spokesman-Review's Northwest Passages community forums series -- which helps to offset the costs of several reporter and editor positions at the newspaper -- by using the easy options below. Gifts processed in this system are not tax deductible, but are predominately used to help meet the local financial requirements needed to receive national matching-grant funds.
Subscribe to the sports newsletter
Get the day's top sports headlines and breaking news delivered to your inbox by subscribing here.
---
Subscribe and log in to the Spokesman-Review to read and comment on this story