News > Nation/World
Egyptian billionaire given death sentence for murder
Former politician, developer ordered ex-girlfriend's death
Fri., May 22, 2009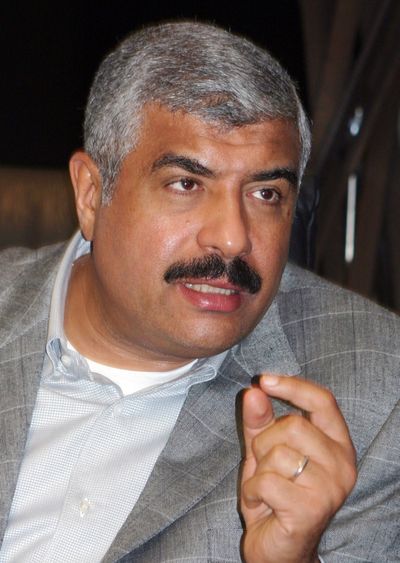 CAIRO, Egypt – A billionaire developer and former member of the Egyptian parliament was sentenced to death Thursday for ordering the murder of his ex-girlfriend, a Lebanese pop singer whose body was found in her high-rise apartment in the Persian Gulf emirate of Dubai.
The verdict against Hisham Talaat Moustafa, once a member of the ruling National Democratic Party, was the latest twist in a drama that has offered a peek into the closely guarded realm of Egypt's politicians and businessmen.
Moustafa, one of the country's richest men, was found guilty of paying $2 million to a former policeman last year to kill Suzanne Tamim, a diva whose professional slide had led her into the affair.
Appearing in court wearing prison-issued white shirt and pants, Moustafa was granted an immediate review of the sentence by Grand Mufti Ali Gomaa. A religious investigation is common in Egypt for death penalty cases, but few had expected that a tycoon who built luxury hotels and had ties to President Hosni Mubarak's family would be facing the gallows.
The verdict may be a sign to businessmen "that nobody is above the law," said Hassan Nafae, a writer and political commentator. "It may deter some arrogant businessmen who thought there were no political or legal constraints on their ambitions as well as their sexual desires."
When Moustafa's fate was read by the judge in a cramped Cairo courtroom, he showed almost no emotion, but the crowd surged toward the cage and chaos ensued. Security guards hurried Moustafa into the hall as family and friends screamed and wept.
The case has fascinated media across the Middle East. Egypt's prosecutor general, Abdel-Maguid Mahmoud, had newspapers confiscated from kiosks and ordered a ban on publishing stories as the investigation pointed toward Moustafa, who was a member of the ruling party's Policy Secretariat, headed by Mubarak's son, Gamal. But the party's ability to protect one of its own collided with the insistence of Dubai authorities that Moustafa be charged with murder.
Moustafa hired hotel security guard and former policeman Mohsen Sukkari to kill Tamim, 31, after the singer broke off their relationship when she became involved with an Iraqi kick-boxing champion. Moustafa, a married man with graying hair and a dark mustache, had dated Tamim for three years; the couple met in hotels and apartments in London, Dubai and Cairo.
Police say Sukkari, who also was sentenced to death, entered Tamim's flat in Dubai on July 28 by posing as a representative of the building's owners. He slit her throat and fled, leaving his bloody clothes behind and his picture on a surveillance camera. He was arrested and implicated Moustafa, whose conversations with Sukkari about the murder were also caught on state security eavesdropping tapes.
Moustafa was head of the Talaat Mustafa Group, which built hotels and businesses throughout the Middle East, including at the Egyptian resort of Sharm El-Sheik.
Local journalism is essential.
Give directly to The Spokesman-Review's Northwest Passages community forums series -- which helps to offset the costs of several reporter and editor positions at the newspaper -- by using the easy options below. Gifts processed in this system are not tax deductible, but are predominately used to help meet the local financial requirements needed to receive national matching-grant funds.
Subscribe now to get breaking news alerts in your email inbox
Get breaking news delivered to your inbox as it happens.
---