Sports
All is forgiven on this night
Sat., May 23, 2009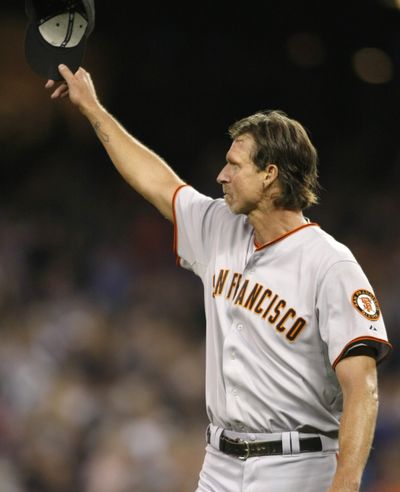 SEATTLE – If shooting your age is the old golfer's grail, is JUGSing twice your age nirvana for old pitchers?
As Randy Johnson, another ancient Mariner of Seattle's baseball past approaching a 46th birthday, faced Wladimir Balentien, representing the muddied future, the radar readings Friday night at Safeco Field were like crack for the midlife crisis set: 94, 94, 94. Finally, Balentien struck out on an 87 mph slider, just to show that pitching guile can be fun, too.
If it was 3 or 4 mph short of old times, nostalgia made up the missing juice.
Really, what would the M's what would Seattle do without nostalgia?
These homecomings are to the Mariners what Helmet Night is to every other major league franchise, though the M's gave away some bobbleheads, too, Friday night just in case the incentive of a curtain call for the game's most dominant left-hander of this and possibly any era wasn't enough.
It did not disappoint, even if Johnson didn't get his 300th victory here or No. 299, for that matter.
But when he gave way in the bottom of the sixth of a 1-1 duel with M's trade find Jason Vargas, the heartfelt standing ovation of 38,520 memory-keepers was warmly returned, Johnson stopping before he crossed the third-base line to raise his cap high in the air, taking in the full panorama of Safeco.
"It was nice to come back here and pitch and pitch well," Johnson said. "I needed that personally and just to take care of the fans. If it's my last start (in Seattle), then I at least got the opportunity to walk off the mound and pay my respects to the fans that have been very good to me over my career."
Surely it beat the way he said goodbye the first time.
Bitter, churlish, cold and alone.
But then, he wasn't called the Big Unit simply for being tall.
That's why you have to love these Seattle shotgun reunions, there's something for softie and hard-heart alike. Aside from the weekly post-retirement love showers for Edgar Martinez, there is the chance to boo Alex Rodriguez with gusto at least twice a year and, of course, the Benedict-to-beloved reclamation of Ken Griffey Jr.
If "Hitched or Ditched" wasn't already a series on the CW, the M's could be one.
Of course, Junior gave Seattle a reason to love baseball so he was easily forgiven. A-Rod was easily ferreted out as a phony and in the final analysis didn't produce anything lasting in Seattle. He was not yet a factor when the M's turned the city on in 1995 and had bailed before the win-fall of 2001.
But Johnson is and was a curiosity. Safeco might be the House That Junior Built, but the fact is Johnson willed the '95 Mariners to their destiny. Thirty times he took the mound for starts that year; 27 times the Mariners won. And that's why major league baseball still exists in Seattle.
"We won 116 in 2001," said M's broadcaster Dave Niehaus, "and it didn't seem as good as the 1995 team, because of what happened that year."
And yet just three years later, Johnson divorced the M's in the most egregious way.
He pulled a Manny.
Unhappy in negotiations for a new contract and given to self-pity and contrived slights, Johnson brought less than his best to the ballpark until what was a choice became an inevitability. In the middle of a deadline-day game against the Yankees, he was traded to Houston.
"It was a little awkward," said Griffey, in a delicate understatement.
Griffey also resisted the notion that Johnson had tanked even though his Seattle numbers (9-10, 4.33 ERA) and his Houston stats (10-1, 1.28) suggest as much.
"Sometimes a change of scenery helps," Griffey said. "If you're asking me if he gave his all, yeah, I think he did. I don't think he wanted to let anybody in this locker room down."
Junior is being generous. At that point, Johnson didn't much care about anyone else in that locker room. He'd virtually severed relations in spring training.
The episode remains the one flaw in the armor of a pitcher who made himself into one of baseball's most feared warriors.
Part of it was danger as M's manager Don Wakamatsu recalled, having hit against him in the minor leagues. "You always felt like you were going to hit his fingertips when you swung, he was that big out there."
But later he soaked up advice from Nolan Ryan to make the final transformation from thrower to pitcher, and the staggering accomplishments – five Cy Youngs and eight seasons of 290 strikeouts or more – mounted.
Playing behind him, Griffey recalled, "was like a semi-day off.
"He was fun to watch a guy throwing that hard, 120, 130 pitches some days. You'd tease him after the game, dropping a towel and saying, 'Pick that up for me' and he couldn't do it."
But pick up the ball Randy Johnson could do that. He did it one last time in Seattle on Friday night, and allowed everyone a chance to forget the one time he dropped it.
Local journalism is essential.
Give directly to The Spokesman-Review's Northwest Passages community forums series -- which helps to offset the costs of several reporter and editor positions at the newspaper -- by using the easy options below. Gifts processed in this system are not tax deductible, but are predominately used to help meet the local financial requirements needed to receive national matching-grant funds.
Subscribe to the sports newsletter
Get the day's top sports headlines and breaking news delivered to your inbox by subscribing here.
---