News > Business
Economy leaving some seniors stuck in their homes
Sun., May 24, 2009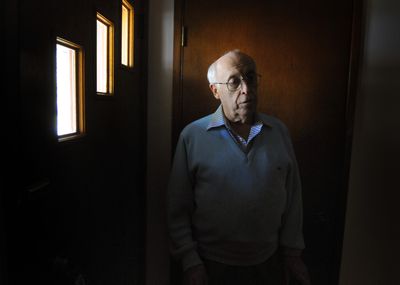 Kenneth Lalonde would like to move into a retirement community.
At 72, he has problems with his vision and a "bum knee," and he uses a cane to get around. It's becoming harder for him to take care of his one-level home on the South Hill. And maybe most importantly, he'd like some company.
"It's very lonely up here," Lalonde said. "My wife died 13 years ago. … You want someone to talk to once in a while."
But he's holding off for now, waiting for the housing market to pick up before putting his house on the market. He's not alone – vacancies in senior communities around the country and region are rising, as potential residents wait to sell their homes or to recover from losses in the stock market.
And as they do so, the cost of retirement living – particularly nursing homes and assisted living – has been rising steeply, at least through the end of last year. In Spokane, the average cost of a private room in an assisted living facility went up 9 percent a year over the last five years, according to a national survey by Genworth Financial, a firm that provides ratings on long-term care nationwide. Private nursing home costs have risen 5 percent a year in Spokane during that time, and 6 percent a year in Idaho – outpacing the national average.
The economic downturn and rising costs for long-term care are putting seniors like Lalonde in a difficult spot. Genworth estimates that two-thirds of people will need some form of long-term care, but it's pretty difficult for most to make the leap now unless their health forces them to.
The combination of events also is hitting the senior housing industry, which relies heavily on new residents being able to sell their homes or use some of their retirement savings to buy or rent a spot in retirement communities.
"We have seen more vacancies," said Katie Haskin, marketing director of the Cooper George Retirement Community in Spokane. "It's a lot more prevalent with the housing market plummeting. The residents who are trying to move in here have been holding on, waiting to sell, waiting to sell, waiting to sell."
Retirement communities have taken steps to try to offset the trend, discounting the sales price or rent and community fees, and delaying payment dates to allow seniors to move in while waiting to sell their homes. In some cases, company officials will even help a prospective client stage their home to improve its chances of selling, said Jason Childers, vice president of brand strategy for Leisure Care, the company that owns Fairwinds-Spokane.
"With the economy like it is, people are just more reluctant to move," Childers said.
'Seeing a decline'
The problem – for both seniors and the senior living industry – illustrates the way economic forces are linked. Home sales by the retired or retiring are perhaps the primary engine making such moves possible, and they've cooled all around the region.
In Spokane County, home sales in the first quarter of this year were less than half that of the same period two years ago, and prices have been stagnant. In Kootenai County, sales and prices have fallen even more steeply. The effects of that have spread throughout the senior housing industry.
"I don't like to speak for everyone, but it does seem like across the board, everyone is seeing a decline," Haskin said.
Senior housing takes in several categories: independent living, in which seniors live on their own and pay for some meals, services and community events; assisted living, in which seniors live on their own in homes or apartments, with some assistance for daily living; and nursing homes, in which seniors receive round-the-clock medical care.
For many, choosing to move into a place like Cooper George involves planning for the day when they'll need more medical care than they do now – the retirement community includes independent living floors and assisted living floors, and residents can move to the next level when their health requires it.
Childers and Haskin said that some seniors may find themselves waiting to move from their homes, and pressing the chances that they'll be forced to move by a health crisis.
"You're waiting and waiting and all of a sudden there's a crisis," Haskin said. "Someone falls down or has to go into the hospital."
'I'm not moving'
Lalonde has had a round of health problems that have him thinking carefully about his own future.
A retired master sergeant in the Air Force, he's had a couple of bouts with cancer, took a fall last year that's left him with nagging knee problems, and has developed an extreme light sensitivity that baffles his doctors. On sunny days, even a little light through the curtains can be painful, and he wears a mask that completely blocks the light when he takes a cab into town.
As someone whose wife spent years in a nursing home, he's familiar with the wide range of options available for senior housing – as well as some of the pitfalls. One of his concerns is that the bad housing market is also affecting the senior communities' bottom lines.
"My concern is I don't want to move into one and find out three months later it's going belly-up," he said.
Financial advisers suggest that people look over a company's financial records before moving in – and that they avoid companies that won't provide such access to information about their financial stability.
But he also foresees the day when he might need more sustained medical care. He might need to use a wheelchair. He might lose his sight, he said.
His home on East 37th Avenue, which he bought 30 years ago for about $56,000, was worth around $183,000 a few years back, he figured, but he assumes that's fallen now. He could easily spend that much at a retirement community in a matter of years. He's checked out several, from those that require a home or condo purchase to move in to others that charge rent. Most charge a range of fees for things from maintenance to keeping a car in a garage.
But he's not ready to make the leap.
"This is a buyer's market, not a seller's market," he said. "I'm not moving until the market picks up."
Local journalism is essential.
Give directly to The Spokesman-Review's Northwest Passages community forums series -- which helps to offset the costs of several reporter and editor positions at the newspaper -- by using the easy options below. Gifts processed in this system are not tax deductible, but are predominately used to help meet the local financial requirements needed to receive national matching-grant funds.
Subscribe to the Coronavirus newsletter
Get the day's latest Coronavirus news delivered to your inbox by subscribing to our newsletter.
---
Subscribe and log in to the Spokesman-Review to read and comment on this story