Sports
Wasn't right with Price
Sun., May 24, 2009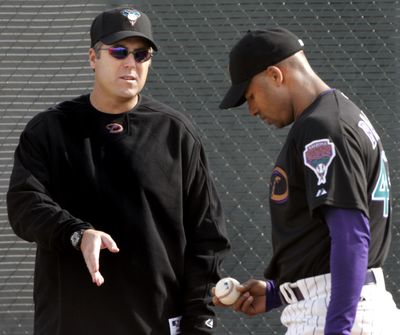 Bryan Price, who served as Mariners pitching coach under Lou Piniella, Bob Melvin and Mike Hargrove before resigning in 2006 to join Melvin in Arizona, was part of the Diamondbacks' recent purge.
Actually, Price quit when close friend Melvin was fired, rather than go to work for his managerial replacement, A.J. Hinch.
"It had to be done," Price said of walking away from his six-figure contract.
Price, who is now doing special-assistant work for the Philadelphia Phillies, elaborated in a recent story by Jack Magruder in his hometown newspaper, the Marin (Calif.) Independent-Journal.
Price was offended when the Diamondbacks named Hinch – previously the director of player development – as Melvin's replacement. Hinch had no previous managing or coaching experience at any level.
"The hiring of A.J., I thought, was a poor decision," Price told Magruder. "A.J. has worked hard to get his credibility in the business in that side of the game, but he doesn't have any credibility between the lines as a manager. That, for me, just wasn't going to work."
Price has had managerial aspirations, interviewing for the position with the Mariners after Piniella stepped down. Also on the Arizona coaching staff, fired along with Melvin, were Chip Hale, a Mariners managerial candidate this past offseason, and Kirk Gibson.
Indians setback
Cleveland put starter Anthony Reyes and reliever Aaron Laffey on the 15-day disabled list, a day after both were forced to leave a game with injuries. The Indians have six players on the disabled list, five of them pitchers.
Left-handers Jeremy Sowers and Rich Rundles were called up from Triple-A Columbus.
Escobar to bullpen
Kelvim Escobar, who has embarked on a rehab stint with Class A Rancho Cucamonga (Calif.), thinks it would be best for his surgically repaired shoulder to return in the bullpen.
"I think it's a better deal for me physically and mentally to get ready as a reliever," Escobar told the Orange County Register.
Local journalism is essential.
Give directly to The Spokesman-Review's Northwest Passages community forums series -- which helps to offset the costs of several reporter and editor positions at the newspaper -- by using the easy options below. Gifts processed in this system are not tax deductible, but are predominately used to help meet the local financial requirements needed to receive national matching-grant funds.
Subscribe to the sports newsletter
Get the day's top sports headlines and breaking news delivered to your inbox by subscribing here.
---
Subscribe and log in to the Spokesman-Review to read and comment on this story