Sports
Castroneves' redemption not a cliché
Mon., May 25, 2009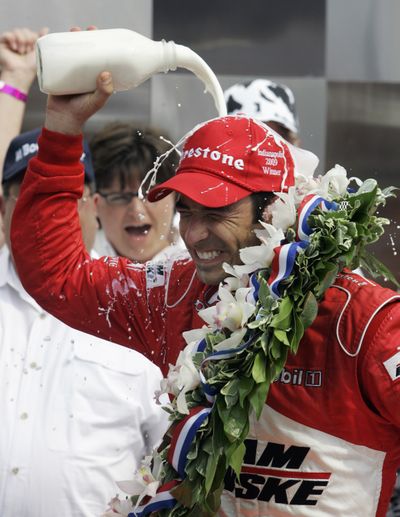 INDIANAPOLIS – Memorable speeches in sports generally are limited to Knute Rockne's "Win one for the Gipper" and Lou Gehrig's "Luckiest man."
Make room for No.3.
Helio Castroneves' "They gave me my life back" speech after winning his third Indianapolis 500 on Sunday ranks as one of the most emotional responses in recent sports history.
Maybe Castroneves words won't have the same resonance as Rockne's and Gehrig's words a few decades down the road. After all, theirs came in the days when sound bites weren't repeated 24/7, legends were built over time and no one could have ever imagined Twitter.
But if Castroneves eventually joins the four-time Indy 500 winners club – currently limited to A.J. Foyt, Al Unser Sr. and Rick Mears – we'll return to the Sunday he won his third Indy. We'll remember how he reacted upon reaching Victory Lane and completing a redemption story like no other.
First, Castroneves climbed the fence, his trademark. Then he held his face in his hands, trying to regain the composure that left him at the finish line as he praised his crew and thanked God twice.
Then he tried to put into words how he felt. You could see it in his face – a mixture of elation, relief and triumph – and feel it in the tone of his voice.
"I think my tears speak for everything, you know," Castroneves said. "What a great team. I just have to thank the Lord for giving me this opportunity to be strong and to have the family I have.
"And to thank Roger, Team Penske, (Tim) Cindric – they gave me my life back," he continued. "I'm here today because of those guys. And the fans – you guys don't understand. You guys kept me strong. You are the best. I thank you so, so much. I'm honored to have fans like you. Thank you so much. Let's celebrate. Yeah, baby!"
Granted, Rockne and Gehrig didn't throw in a final exclamation reminiscent of Austin Powers. But Castroneves didn't have time to edit his response. He didn't have time to put the exact words together. He knew the win was coming for at least 20 laps, when he took firm control of the race. But you try organizing your thoughts at 220 mph. He ultimately went with emotion.
"They gave me my life back."
Castroneves was talking about Roger Penske and the team, who held his spot open while Castroneves spent months dealing with tax evasion charges and wondering whether he'd end up out of racing and into prison. He was talking, perhaps, about the jury that acquitted him of all but one conspiracy charge, which has since been dropped. Maybe it meant something more spiritual.
The second chance, the new life, redemption – they're so clichéd in sports, so overused –and yet they also come up short in describing Castroneves' journey.
A few weeks ago, he was staring at a possible jail sentence and the interruption, if not the end, of his career. After being acquitted and putting the tax trial behind him, he returned to IndyCar racing as a driver possessed. He's blessed to be part of Team Penske, which notched its record 15th Indy 500 win. Returning, he knew equipment would not be an issue.
Castroneves, who won Indy in 2001 and 2002, won this year's pole position and posted the fastest times all month. When he was passed by Dario Franchitti early on and trailed Scott Dixon for 73 laps, he maintained his cool. When he took the lead for good on Lap 142, he was back in his element.
This year's was a race won by experience, by skill, by intelligence and the ability to handle speed and avoid problems.
This was not a day for the celebrated young guns. Marco Andretti was taken out by Mario Moraes, whom he labeled "clueless." Graham Rahal ended up in the wall avoiding the driving of Milka Duno, whom he labeled "clueless."
It wasn't a day for the Indy-cursed Tony Kanaan, either. His car failed him and sent him into the wall. He didn't label anyone "clueless," but he doesn't have a clue why the Indianapolis Motor Speedway treats him so bad.
Dan Wheldon, who finished second, proved that you don't have to be on the big three teams – Penske, Ganassi and Andretti Green – to make a run. Skilled drivers can make a difference for any team, as his first Indy with Panther Racing proved.
Danica Patrick ended up with her best Indy 500 finish, taking third. Any other day, her finish might have been the big story. Not on the day when Castroneves got his life back.
Winning three Indy 500s would be newsworthy enough without Castroneves' back story. Only eight other drivers have claimed No. 3 and they sport legendary names – not only Foyt, Unser and Mears, but Bobby Unser, Wilber Shaw, Johnny Rutherford, Louis Meyer and Mauri Rose.
Castroneves' brush with the law never made sense to those who followed his career. He sports none of the trademarks of the bad-boy athlete. He's quite the opposite. He's engaging, kind, energetic and thoughtful. He won "Dancing with the Stars." Tax evasion? It didn't make sense.
But those charges were real and the worry that he'd lose his livelihood and his freedom weighed heavy. When it was lifted, then rewarded, why wouldn't tears fall? I challenge anyone to watch Castroneves' reaction after winning Sunday and not feel moved.
They gave him his life back, indeed.
He's embracing it, full speed ahead.
Local journalism is essential.
Give directly to The Spokesman-Review's Northwest Passages community forums series -- which helps to offset the costs of several reporter and editor positions at the newspaper -- by using the easy options below. Gifts processed in this system are not tax deductible, but are predominately used to help meet the local financial requirements needed to receive national matching-grant funds.
Subscribe to the sports newsletter
Get the day's top sports headlines and breaking news delivered to your inbox by subscribing here.
---
Subscribe and log in to the Spokesman-Review to read and comment on this story