Sports
Baseball notebook: Zambrano suspended
Fri., May 29, 2009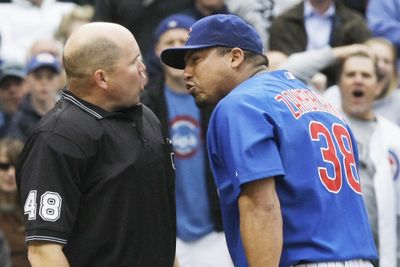 Cubs ace Carlos Zambrano was suspended for six games by Major League Baseball on Thursday, a day after his tirade during a game against the Pittsburgh Pirates.
Zambrano said he won't appeal the penalty, which included a fine. Barring rainouts, he is eligible to return Thursday and start that night at Atlanta.
"Well, you know, I think I'm a pretty good judge of when you make a mistake, when you do something wrong, you have to pay for it," Zambrano said. "I don't have a problem with that. I know that I did something that disrespected MLB. I apologize like I did yesterday, and let's move on. I accept the suspension."
Chicago manager Lou Piniella said the penalty was reasonable.
Hicks would sell
Tom Hicks is willing to give up control of baseball's Texas Rangers if the right deal comes along, but he intends to keep the NHL's Dallas Stars.
Hicks said in late March that he was seeking minority investors to purchase up to 49 percent in each club. About a week later, the holding company that owns the teams, Hicks Sports Group, defaulted on about $525 million in loans.
Hicks said he intentionally made the move to help negotiate with banks.
"With the right partners, I would be willing to sell a controlling interest in the Rangers," Hicks said in an e-mail to the Associated Press. "Not so with the Stars."
Catchers ejected
The Minnesota Twins and Boston Red Sox both had their managers and catchers ejected during separate arguments in the seventh inning in Minneapolis.
Twins catcher Mike Redmond was tossed for disputing a play at the plate. Right fielder Jason Kubel threw a strike to Redmond as Jeff Bailey neared the plate. Replays appeared to show Redmond tag Bailey's arm a split-second before the Boston runner touched home.
Plate umpire Todd Tichenor called safe, Redmond began a face-to-face disagreement and was quickly removed from the game.
Manager Ron Gardenhire was ejected, too.
Joe Mauer filled the catcher position.
In the bottom of the seventh, catcher Jason Varitek and manager Terry Francona of the Red Sox were kicked out for apparently arguing a pitch that Tichenor called a ball.
Local journalism is essential.
Give directly to The Spokesman-Review's Northwest Passages community forums series -- which helps to offset the costs of several reporter and editor positions at the newspaper -- by using the easy options below. Gifts processed in this system are not tax deductible, but are predominately used to help meet the local financial requirements needed to receive national matching-grant funds.
Subscribe to the sports newsletter
Get the day's top sports headlines and breaking news delivered to your inbox by subscribing here.
---
Subscribe and log in to the Spokesman-Review to read and comment on this story