Sports
GNL takes its second chances
Al-Hassan bounces back in hurdles
Sun., May 31, 2009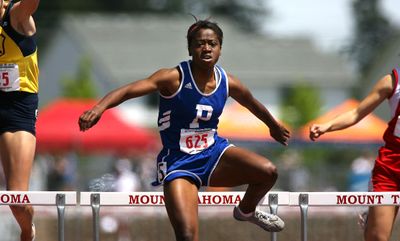 TACOMA – A pair of multiple-event Great Northern League state qualifiers focused their efforts into one good performance and a third took advantage of a do-over during the State 2A track and field meet at Mount Tahoma High.
After bombing in her javelin appearance a day earlier, Pullman's Niina Al-Hassan won the 300-meter hurdles Saturday.
Like Al-Hasaan in the javelin, Colville's Tasha Luu had a less-than-stellar long jump performance, coming a day after the freshman had won the high jump.
Meanwhile, another Pullman hurdler, Nick Cassleman, got two chances in the 300 intermediates, improving from fourth to second when the event was re-run after it was discovered that the barriers had been improperly set.
The Pullman hurdlers were among those who added 16 medals to the GNL tally on the final day of competition. Lynden's boys with 45 points and Blaine's girls with 56 were team champions.
Al-Hassan, who had eclipsed 125 feet in the javelin this year, didn't break 100 in the preliminaries at state.
Saturday, however, she raced to a 44.51 300 hurdles victory in a taut three-runner race that was decided at the end when a challenger stumbled near the finish.
"It was really close," Al-Hassan said. "I heard the crowd go, 'Ooh.' But I kept pulling my trail leg so I didn't stumble like I did yesterday (in the preliminaries)."
She said her javelin failure was a mistake in not properly familiarizing herself with the runway.
Luu scratched twice and her good long jump was just 14-71/2, 3 feet shorter than her season best.
"My steps were just off," said Luu, a freshman who cleared 5-4 to win the high jump Friday. "I was so nervous. Coach told me to relax and have fun. I'm just happy with the high jump title."
Cheney junior Shelby Mauer picked up four medals on the day, giving her 12 for her career. Racing taller and more mature-looking foes, she was sixth in the 100 and 200 and ran on second- and third-place 400 and 800 relay teams.
The tiny sprinter said in some ways she's at a disadvantage because of her size.
"Maybe I don't have long enough legs to run as fast," she said. "But it's nice beating tall girls."
Cassleman finished fourth when the 300 hurdles were first run at 11:30 a.m., timing 40.57. In the re-run at 3 p.m., he clocked 39.22 in second, missing first place by .33 seconds.
"I switched blocks and added stuff but went back with doing everything with my right leg," Cassleman said of his second race. "I guess it helped. But I feel bad for the other two guys (he beat). I guess there's not much I can do about that."
In the 400 relay, West Valley – Diondre Ross, Kingsdon Simon, Alex Allison and David Gilman – had a big lead and appeared on its way to victory. But Selah sprinter Brett Blanshan chewed up the deficit in the final straight just as he'd blown away the field to win the open 100 in 10.6 and 200 in 21.7. He caught Gilman (43.51) at the end for the win, timing 43.47.
"We knew he'd come after us," Gilman said. "We tried our best and gave it up to a legitimate runner."
The Eagles moved up to fourth in the 1,600 relay after third-place Pullman was disqualified.
Local journalism is essential.
Give directly to The Spokesman-Review's Northwest Passages community forums series -- which helps to offset the costs of several reporter and editor positions at the newspaper -- by using the easy options below. Gifts processed in this system are not tax deductible, but are predominately used to help meet the local financial requirements needed to receive national matching-grant funds.
Subscribe to the sports newsletter
Get the day's top sports headlines and breaking news delivered to your inbox by subscribing here.
---