News > Business
So much for face value
Gift cards often come with layers of fees, fine print and pitfalls
Sun., Nov. 1, 2009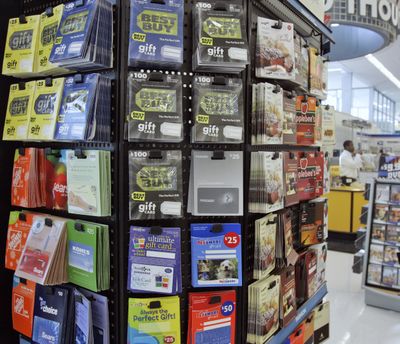 You buy your sister a $100 general purpose gift card. It's for her birthday, but it might be the bank that has reason to celebrate.
Despite your good intentions, such gift cards often come with a tangle of fine print and fees that can ensnare unsuspecting recipients. Your sister might not realize that a $3 monthly inactivity fee kicks in after a year. Or it could annoy her that it costs $12 to replace a lost card.
While the new credit card law passed this year includes some regulations for gift cards, it doesn't eliminate many of the fees they often come with.
So before you start loading up on gift cards for the holidays, be sure you know the pitfalls.
The basics
There are two types of gift cards – store cards and general purpose bank cards. The latter are Visa, MasterCard or American Express branded cards that you can use wherever those credit cards are accepted. These are the cards that often come with a mess of fees and terms.
Unlike with gift cards to specific stores, there are usually fees to buy general purpose gift cards. Chase and Wells Fargo cards cost $3.50 a piece. American Express cards cost between $2.95 and $6.95, depending on the value of the card.
The cards can't be reloaded, and don't come with the same protections as credit or debit cards. So you can't dispute a purchase or issue a "stop payment."
Running meter
Once a general purpose bank card is purchased, the clock on the expiration date starts ticking.
At Wells Fargo, gift cards typically expire four years after the card is purchased. You can request a check for the remaining balance if you don't use up the card before then, but that will cost you $15. So if the balance on your card is less than that, you're out of luck.
The card's value could disappear even before the expiration date as a result of dormancy fees. Chase and Wells Fargo both start deducting $2.50 a month from cards after a year. So if left unused, a monthly fee could eventually deplete a card's value. Some cards start charging monthly fees as early as six months after purchase, according to the Consumer Federation of America, which is based in Washington, D.C.
More fees
The attraction of general purpose cards is obvious – they're no-hassle crowd pleasers and you can buy them at the last minute. But even apart from upfront and inactivity fees, the recipient can encounter several other surprising service charges.
If a card is lost or stolen, Chase charges $12 for a replacement card while Wells Fargo charges $7.50. There could also be fees of 3 percent or so on foreign transactions, as with many credit card purchases. Other banks charge to look up the balance on a card.
The best way to be sure you're aware of all the fees is to read the fine print on the packaging before you buy any card. The cost for purchase and any other fees should be spelled out.
Other limitations
One way to safeguard a general purpose gift card is to register it online; this will ensure you can get a replacement if it's lost or stolen. You'll need to report a missing card right away, however. If a thief goes on a spending spree with the card before then, you likely won't get a refund.
The other major pitfall with general purpose cards is that people often don't use up the balance. One reason is that people often don't know how much is left on their cards, and merchants can't look up the balance.
In addition, some stores won't let you use multiple forms of payment if there's not enough on your gift card to cover the bill. As a result, 10 percent of the value on bank cards is never used, according to the Consumer Federation of America.
As for making purchases online, you'll probably need to register the card first. This is because you typically need to provide a billing address for cards when shopping online.
Ultimately, it's a good idea to keep the receipt for any cards in case there are problems.
New safeguards
The good news is that retailers and banks will have to abide by some new ground rules with gift cards starting in August 2010. Issuers will be banned from putting an expiration date on gift cards, unless it's at least five years after the card is loaded.
Inactivity fees will also be banned, unless the card hasn't been used for at least a year. And the Federal Reserve has been directed to review whether fee amounts for gift cards are appropriate. Issuers will also be required to "clearly and conspicuously" state fees on packaging.
Until then, it might be easier to simply steer clear of general purpose gift cards.
Local journalism is essential.
Give directly to The Spokesman-Review's Northwest Passages community forums series -- which helps to offset the costs of several reporter and editor positions at the newspaper -- by using the easy options below. Gifts processed in this system are not tax deductible, but are predominately used to help meet the local financial requirements needed to receive national matching-grant funds.
Subscribe to the Coronavirus newsletter
Get the day's latest Coronavirus news delivered to your inbox by subscribing to our newsletter.
---
Subscribe and log in to the Spokesman-Review to read and comment on this story