News > Features
Handling conflict constructively gives kids sense of safety
Mon., Nov. 30, 2009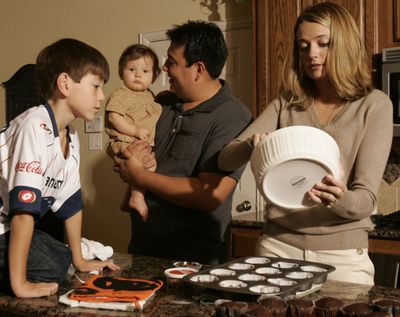 Meals. Bedtime. Discipline.
The reasons parents clash over the kids are endless, especially now that more unemployed dads are filling in for back-to-work moms as the bad economy grinds through a second year.
Nerves are definitely taut on today's home front, compounding the challenge for parents looking to navigate and negotiate disparate views on child-rearing.
"I've never seen such stress in parents and families," says Michele Borba, a psychologist and mother of three boys who has written 22 books on parenting.
"The recession is causing stress, number one. And number two, it's a pressure-packed world. Parents are very often at that level when they think being a to-do list is more important than who they are."
Borba and other parenting experts suggest a game plan that recognizes differences among partners as positives rather than sources of scorn and blame.
But reversing long-standing parenting patterns while managing the day-to-day can be daunting.
"Our roles are sketched out," says Jennifer Aniskovich, who with her husband, Bill, is raising daughters Celia, 17, and Emi, 7, in Branford, Conn.
"He's the fun dad and I'm the mom who's always saying 'No,' " she says.
"You'd think after 20 years of marriage you'd have it worked out. We met in law school and we joke that we fell in love while we were learning to argue."
Jennifer, 44, was head of a state arts and tourism commission and now works part-time as a consultant to nonprofit groups. Bill, a former state senator, heads a substance abuse facility.
With a 10-year spread between their girls, they've learned to defuse parenting clashes through humor and knowing when to walk away from a disagreement over the kids.
"There are moments when the worst of us comes out and we march out in a huff, muttering under our breath, and it's a complete meltdown, but that doesn't usually happen," Jennifer says.
"But no matter how careful you are, there's always the lurking danger that you're going to view yourselves as being on separate teams. That's the biggest challenge of parenting."
Kyle Pruett, a child psychiatrist and co-author with his wife, Marsha Kline Pruett, of the new book "Partnership Parenting" (Da Capo, $15.95), says parents too often find themselves keeping score.
"The idea of bean counting, of 50-50 parenting, is just bankrupt: 'I'm doing more sandwiches than you. I'm changing more diapers,' " he says.
"There is this wrongheaded and tragic misconstruing that parenting is an equality project. It can't possibly be. You're not clones of each other."
Consistency is perhaps the top parenting clash, says Borba, who has written a new, telephone book-size tome called "The Big Book of Parenting Solutions: 101 Answers to Your Everyday Problems and Wildest Worries" (Jossey-Bass, $19.95).
"When the parental unit in a household is weakened due to conflict, it can have a major impact on the children's sense of confidence and safety," she says.
She suggests parents work toward crystal-clear rules on such things as punishment and resolve not to shift from one "trendy solution" to another in search of quick fixes.
"One minute parents are letting kids have free rein, and the next they are cracking down and afraid to let go," Borba says. "Not only are the mixed signals confusing and frustrating for kids, when the problems end up resurfacing down the road, so do the arguments with your spouse."
The issue is made even more difficult when parenting roles change.
Katelyn Odria, 27, and her husband, Mark, live in Carrollton, Texas, with their 7-year-old son, Nicholas, and 9-month-old daughter, Ava.
After a mid-career switch into real estate in 2007, Mark was laid off the following April. He was out of work for eight months, then got a job selling steel in January, only to be laid off again in July.
Katelyn has always worked, but they let their nanny go and Mark is now caring for the kids full-time.
"Mark is very good at taking care of the kids and keeping the house up, but I'm the more lenient one," she says.
"If Nicholas won't pick up his toys, my husband's reaction is, 'If you don't pick them up, I'll throw them away,' where I'll give him a second or a third chance. My husband gets upset because he thinks I'm undermining him."
While Mark's role has changed, the way he approaches discipline has not. Katelyn wishes for a secret signal to help them step back while they search for solutions.
"If he and I could have a code with each other, like I could say a code word and he would know I'm not agreeing," she says. "It's just really hard for me not to say at least something in the moment."
Borba urges parents to consider the implications of child-rearing friction over time:
•Your kids will lose confidence – in you: Conflict leads to loss of confidence and feelings of safety in children, making it more difficult to discipline them but also "harder for parents to soothe a child who is upset or worried," she says.
•Feelings of powerlessness: Parents who feel unsupported by a spouse experience a dramatic drop in the ability to solve problems, search for solutions and communicate effectively – in parenting and in their marriages, Borba says.
•Harmful alliances between parent and child: Taking a child's "side" when two spouses disagree instead of presenting a united front is a protective instinct, she says.
"Don't do it," she says. "Doing so not only undermines the authority of the 'opposing' parent, it sets up a dynamic that encourages kids to play you and your spouse against one another in the future."
Sometimes, Borba says, the only thing left is to admit to your kids – and each other – that you don't have all the answers.
"Learning how to fight fair," she says, "is half the battle."
Local journalism is essential.
Give directly to The Spokesman-Review's Northwest Passages community forums series -- which helps to offset the costs of several reporter and editor positions at the newspaper -- by using the easy options below. Gifts processed in this system are not tax deductible, but are predominately used to help meet the local financial requirements needed to receive national matching-grant funds.
Subscribe to the Coronavirus newsletter
Get the day's latest Coronavirus news delivered to your inbox by subscribing to our newsletter.
---
Subscribe and log in to the Spokesman-Review to read and comment on this story