News > Pacific NW
Keller Ferry across Columbia River shut down
Fri., Oct. 9, 2009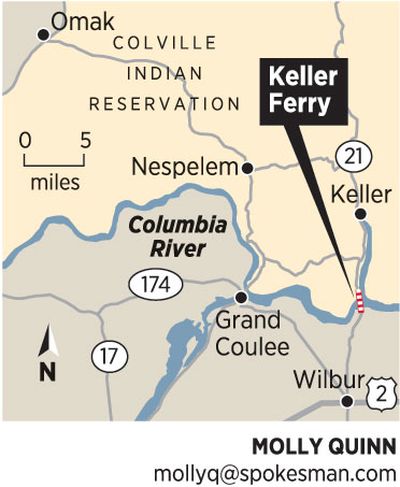 The state-operated ferry across the Columbia River at Keller has been shut down due to a hull leak, disrupting travel between Lincoln County and Ferry County and the Colville Indian Reservation. State officials say a tiny leak was found in the hull during recent maintenance this week. They were unable Friday to estimate when the ferry, called the Martha S, will return to service. Workers found the leak as they removed interior rust during routine maintenance, said Al Gilson, the state transportation department spokesman for Eastern Washington. The ferry was taken out of service at that point, Gilson said, adding "the ferry never carried any passengers while leaking." Gilson said the ferry will be hauled to Grand Coulee early next week and placed in drydock for repairs. The interruption of service prevents drivers from crossing the Columbia just north of Wilbur and heading toward Keller, Republic and Ferry County. Michael Finley, chairman of the Colville Business Council, said the interruption will force travelers to detour to the west through Grand Coulee. "It's 50 miles extra driving distance," Finley said. He said area officials have been pressing the state to replace the ferry for years. In a press release, Finley called the vessel "old and potentially dangerous." The Keller ferry is the only inland ferry operated by Washington's Department of Transportation, Gilson said. It was put into service in 1949 and has continued in use, with repairs, ever since. Gilson noted the transportation department requested $15 million in the last legislative session for a new ferry and for new boat ramps. The request was trimmed to $11 million and then taken out of the budget. Legislators provided $1 million for boat repairs this year, Gilson said. Finley said there's no point in spending $11 million on a new ferry to cross the river at Keller. The river distance traveled by ferry is 1.25 miles. "They're trying to buy a Cadillac and that's not needed there. What we need is a good Ford Escort," said Finley. Also disrupted are some families from the Keller School District, Finley said. Without its own high school, Keller students drive or take a bus south to Wilbur, usually a trip of 25 miles with the ferry ride. The vessel operates 18 hours a day, seven days a week. Transportation officials say the ferry carries about 165 vehicles across each day.
Local journalism is essential.
Give directly to The Spokesman-Review's Northwest Passages community forums series -- which helps to offset the costs of several reporter and editor positions at the newspaper -- by using the easy options below. Gifts processed in this system are not tax deductible, but are predominately used to help meet the local financial requirements needed to receive national matching-grant funds.
Subscribe to the Coronavirus newsletter
Get the day's latest Coronavirus news delivered to your inbox by subscribing to our newsletter.
---
Subscribe and log in to the Spokesman-Review to read and comment on this story