News > Features
Mirror miracles
Many cancer patients find comfort, reduce stress by improving their physical appearance
Tue., Oct. 20, 2009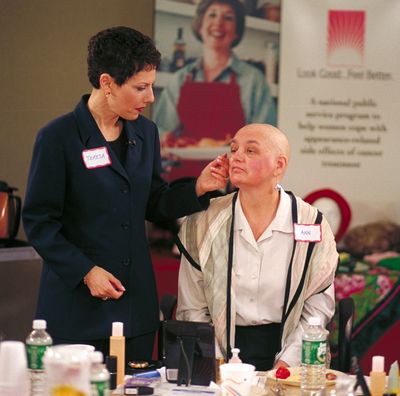 Lipstick, moisturizer and a wig can't cure cancer. But beauty – and beauty products – can help heal wounded self-esteem, which often takes a big hit as patients undergo cancer treatment.
Experts say hair loss and skin discoloration and dryness can undermine an already physically difficult and emotionally draining process.
"Some days I didn't want anyone to see me or even have my husband look at me," says Michele VonGerichten, a breast-cancer survivor.
"When you are waiting for your hair to grow, you spend a lot of time looking into the mirror, just waiting for a sign that you're going back to normal."
Cancer survivors and counselors alike say the moment a person doesn't recognize herself in the mirror because of physical changes caused by treatment can be one of the lowest points of the process.
VonGerichten says the minute she took charge and regained her beauty routine, her spirits improved.
While she hopes never to put on her wig again, she says she'll also never go back to the long hair that she had before chemotherapy began last March. Her hairstyle is now "a really short version of the Jamie Lee Curtis cut."
VonGerichten is one of 650,000 female cancer patients in the United States to participate in the 20-year-old Look Good, Feel Better campaign, sponsored by the Personal Care Products Council Foundation.
Free to any cancer patient, the program offers tips from 14,000 makeup and hair professionals from across the country on all things cosmetic. Topics include how to style a wig, tie a head scarf, fake eyebrows and even out discolored skin.
Most women participate through workshops at 2,500 hospitals, cancer centers, American Cancer Society offices or other community facilities per year.
There are self-help videos, workbooks and a Web site for those who don't feel comfortable in a group setting or can't get to one of the classes.
"The goal is we send everyone home having had a wonderful experience and learning the tools and tricks they can replicate on a daily basis," says executive director Louanne Roark.
The emphasis is hardly on glamour or vanity, adds Dr. Mary Jane Massie, a psychiatrist at New York's Memorial Sloan-Kettering Cancer Center and a spokeswoman for the Look Good program. But even the least fussy person craves some normalcy, and grooming helps.
Sometimes it's the woman who really had never paid much attention to makeup and hair before who seems to get the most out if it.
"You might not feel like a full functioning person in a family or a community when you're undergoing treatment," Massie says. "This program has helped people learn tips to prepare themselves to present to their world in a way that's comfortable to them.
"I saw a beautiful young woman yesterday with hair probably five inches long. It looked beautiful, but she had long, beautiful hair her whole life and she thinks people see her as bald and as a 'cancer victim.' "
Marybeth Maida, a breast cancer survivor, says she wished every day during her treatment that someone would not comment about the way she looked – no matter if the comment was going to be positive.
Maida recently teamed with an old friend, Debbie Kiederer, to write the book "Beauty Pearls for Chemo Girls" (Citadel, $14.95) and launch a companion Web site.
"Our whole point is that you can't get away from what is happening to you, but you can embrace it, find the beauty inside of you and bring it out," she says. "Chemo doesn't change who you are, just what you look like."
Among the best advice, says Maida, is encouraging women to get their natural hair cut short before starting treatment so the transition to baldness – and a wig – won't seem so dramatic.
She adds that you can go almost anywhere with a wig, lipstick and sunglasses and you'll look like any other busy woman.
Appearance might seem trivial in a life-or-death situation, but there are known links between stress and the immune system, notes Katherine Puckett, national director of the mind-body medicine program for the Cancer Treatment Centers of America.
"Looking good helps with confidence, which helps with stress, which helps immunity, which helps treatment," she says.
The CTCA works under the guideline that each phase of cancer treatment is connected to another, Puckett explains, and having a beauty salon on site is certainly part of that. Some men will visit the salon, she says, but it is typically women.
Still, once patients are debriefed on the mind-body connection, Puckett says she's never seen anyone who isn't receptive to the idea that improving self-esteem might ultimately improve health.
Paul Moskowitz, chief oncology social worker at Montefiore-Einstein Center for Cancer Care in New York, says he can see the difference when a patient has either attended a Look Good workshop or some other sort of cosmetic counseling.
"I can tell when they've been applying lip product or if they've been fitted for a wig," he says.
"It's not even in their appearance, but they'll be more talkative and you can see a willingness to express more of their feelings, and that's all part of healing."
Local journalism is essential.
Give directly to The Spokesman-Review's Northwest Passages community forums series -- which helps to offset the costs of several reporter and editor positions at the newspaper -- by using the easy options below. Gifts processed in this system are not tax deductible, but are predominately used to help meet the local financial requirements needed to receive national matching-grant funds.
Subscribe to the Coronavirus newsletter
Get the day's latest Coronavirus news delivered to your inbox by subscribing to our newsletter.
---
Subscribe and log in to the Spokesman-Review to read and comment on this story