News > Washington Voices
Capitalizing on net gain
Extra playoff spot up for grabs in 4A volleyball league
Sat., Sept. 5, 2009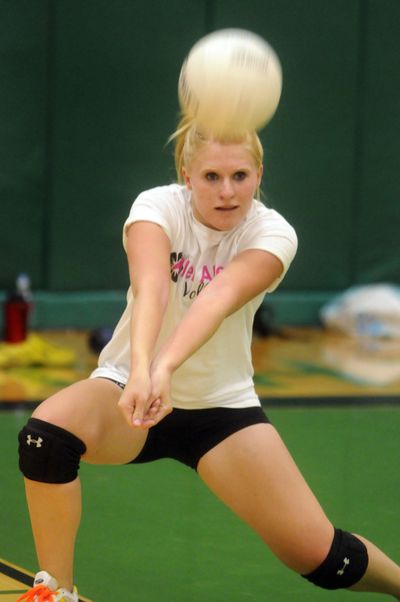 Chad Coupland admits to staring at a blank spot on the wall of the Central Valley gym. It's high up amongst a row of banners proclaiming the school's postseason sports successes.
"We have banners up there for all the teams that have reached the state tournament," he said. "But there isn't one for volleyball. And there should be."
Especially after last year's CV squad's success.
"We play in the toughest Class 4A league in the state," Coupland said. "We played right with Mead every time we played them. But there were only two berths in the regional tournament available and they went to Mead and Lewis and Clark. We could have beaten on every team coming out of the Columbia Basin League, but because they have more Class 4A schools, they get to dictate how the berths are divvied up and they get the lion's share.
"The truth is we should have gone to state last year with the team we had, and I believe we would have done very well."
As it was, Lewis and Clark and Mead represented the league well at state. After two seasons of losing to Mead in the state finals, the Tigers won the 4A title a year ago. The Panthers' string of five consecutive state championships was snapped, but the Panthers did bring home a seventh-place trophy.
While there has been no appreciable drop-off of talent at Mead or Lewis and Clark, who appear to be set to battle each other once again for Greater Spokane League supremacy, the league this year gets three regional berths – opening a pathway to the state tournament for a team that can survive a tough, tough regular season.
"You don't have an easy game in this league," Coupland said. "You have great talent at each of the 4A schools and the Class 3A schools in this league are all very tough. You can't have an off night. You really need to win the games you're supposed to win because it's hard to make up ground if you don't."
"Boy, isn't that the truth," University coach Mark Weiss said. "I think we've done that a time or two.
"You can't look past anyone in this league. You can look at rosters and look at players they may have lost, but they all have healthy junior varsity squads full of players all working hard to get a chance to crack the varsity lineup. You don't want to take that for granted."
Central Valley Bears
Coupland's Bears return most of their offense from last year.
"The seniors we lost were defensive specialists and they will be tough to replace," he said. "We have some young players who are working hard and I think they'll get there."
All-GSL first-team setter Shannon Giusti returns to run the offense. This year Coupland has the luxury of using a strong second setter, meaning he can now better take advantage of the senior's talents.
"We can use Shannon now as a hitter, too," the coach said. "Not only is she our best setter, she's also one of our best hitters, too. Now we can take advantage of that."
Senior outside hitter Kelsey Solberg, senior middle hitter Brandy Johnson and junior outside hitter Paula Jennings all return to help power the offense.
The Bears enter the season with plenty of volleyball under their collective belts.
Every member of the CV varsity team played club volleyball over the summer – a necessity if you're going to compete in the GSL, the coach said.
"If you have two teams, one where everyone plays club volleyball and the other that doesn't, the difference is obvious," Coupland explained. "It's one-sided and it'd be painful to watch."
East Valley Knights
East Valley started the season with a bang, playing at a high level from the first serve, but the rest of the league caught up. Shadle Park knocked the Knights out of the postseason en route to the Class 3A state title.
"This year we want to do things the other way around," said Jim Dorr, the GSL coach of the year the past two seasons. "We want to be playing our best at the end of the season instead of at the beginning."
The Knights were hit hard by graduation, which wiped out much of the team's offense.
"Over the summer we concentrated on defense and passing," Dorr said. "We're going to have to find a new way of doing things this year."
Two of the team's senior leaders, including returning all-GSL player Allie Riggin, will be out until the end of the month with knee problems.
"Having them out creates an opportunity for these younger players to show what they can do," Dorr said. "They have the chance to get some experience, and I think that will help us down the road."
Senior Alyssa Dorr will be the team's setter after being a defensive specialist a year ago. Also back is Andrea Hartburg, who will have a chance to shine this season.
"Andrea played behind a couple all-league players a year ago," the coach explained. "She was behind Justine Simpson last year and I think she's a very similar player to Justine, just without the experience. In fact, I think she's a better jumper than Justine was."
Dorr said he learned quite a bit last year watching Shadle Park march to a state championship.
"I learned that if you have an outstanding setter, you can overcome a lot of things," he said. "That's what Shadle had."
University Titans
Weiss is going with nine players on his varsity roster to start the season – most of them with varsity experience.
"We played about nine deep last year," he explained. We had our starters, but we played with a deep bench so we have a lot of players with valuable experience."
The Titans return both setters – nicknamed "The Setting Moons," in sisters Ashley and Jessica Moon – giving the team depth in a vital position.
Dakota Schiermeister is a senior right-side hitter. Junior Jordan Bonertz is her counterpart on the left side.
One player missing from the lineup is senior outside hitter Chenis Pakootas, who transferred to Mead.
"It was a family decision for them – they wanted to be closer to where her father works," Weiss said. "We talked about it and I'm happy for them. Not that Mead needs more players."
Having a shot at reaching the state tournament is a big incentive, he said.
"We haven't talked about it as a team, but it's huge," Weiss said. "It's a big incentive. I think we have five or six teams in this league who could all go on to the state tournament and do well. It's tough when you don't have a chance to go."
West Valley Eagles
Drew Wendle has noticed a trend.
"Every year we seem to get younger," he laughed. "We got younger last year and we did OK. This year we got younger again."
The Eagles earned a berth in last year's state Class 2A tournament and made the most of the chance, bouncing back from a first-round loss to Black Hills to win a fifth-place trophy, knocking off Mark Morris in the trophy game.
The team loses Great Northern League most valuable player Alyssa Wold to graduation, along with second-team all-league player Luryn Abrahamson. That doesn't mean, however, that the cupboard is bare.
Back is first-team all-league hitter Shaniqua Nilles as is second-team hitter Bailey Wold.
"We've got pretty good size across the front," Wendle said. "Shaq is 6-feet. Bailey is 5-10 and we have Hannah Love back and she's 5-10 or 5-11."
The GNL will again be one of the toughest Class 2A league around, the coach said. Pullman will again be the team to beat, with Colville and Riverside both looking strong.
"We don't have a weak team," he said. "You have to be ready every night."
Freeman Scotties
The Scotties would love to have a home-court advantage. If they only had a home court.
Freeman High School was largely torn down over the summer.
"There is a bright side to all of this," coach Eva Windlin-Jansen said. "With so many teams all in need of court time we have to practice in shifts. That means we can actually have more coaches around for the different teams, so kids get a little more attention."
The Scotties have a solid group back from a year ago, led by senior middle blocker Lea Jansen and her sister Maya, an outside hitter. Both are the coach's daughters.
Also back is last year's starting setter, Blair Riddle, a first-team All-Northeast A League pick a year ago, and basketball standout MacKenzie Taylor.
"Until you see someone else on the other side of the net, you never know just exactly what you have," the former head coach at Gonzaga University said. "I'd have to say that we're more experienced, especially with our outside hitters, than we were last year.
Local journalism is essential.
Give directly to The Spokesman-Review's Northwest Passages community forums series -- which helps to offset the costs of several reporter and editor positions at the newspaper -- by using the easy options below. Gifts processed in this system are not tax deductible, but are predominately used to help meet the local financial requirements needed to receive national matching-grant funds.
Subscribe to the Coronavirus newsletter
Get the day's latest Coronavirus news delivered to your inbox by subscribing to our newsletter.
---
Subscribe and log in to the Spokesman-Review to read and comment on this story