News > Features
Shaking in his boots
Sun., Sept. 13, 2009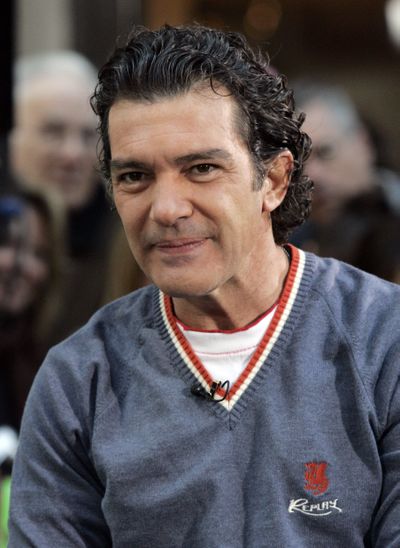 During the production of the new romantic drama "The Other Man," Antonio Banderas confessed to leading lady Laura Linney that he felt insecure about his performance.
"She said, 'That is very good, because you are stepping into new territory,' " the star of such films as "The Mask of Zorro," "Evita" and "Shrek 2" says.
"Every time you step into new territory, you know you are not exactly doing the same thing and you are not getting comfortable," says Banderas, who begins filming a mystery, "The Big Bang," in Spokane this week.
"This character made (me) go to a very unsafe zone."
In "The Other Man" (scheduled for a limited release Sept. 25), Banderas plays the mysterious Ralph, who has had an affair in Milan, Italy, with Lisa (Linney), a married London-based shoe designer.
She suddenly disappears, leaving behind clues to let her husband (played by Liam Neeson) know about the infidelity.
Ralph appears at first to be a well-educated, chess-playing sophisticate, but as the story unwinds, he is revealed to be something else.
Linney thinks the film came at a good time for the 49-year-old Banderas.
"He has been so successful here as a larger-than-life heroic character – Zorro and Puss in Boots," she says.
"I love Puss in Boots. But I think as much as he loves doing all of that stuff, there was a part of him who wanted to work on a straight drama."
It was Banderas' early work with fellow Spaniard Pedro Almodovar in films like "Women on the Verge of a Nervous Breakdown" and especially "Tie Me Up! Tie Me Down!" in the late '80s and early '90s that appealed to director Richard Eyre.
Banderas says he'd love to work with Almodovar again.
"Last year, I won an award at (Spain's) San Sebastian Film Festival, and we had a long talk," he says. "I know we are not going to die before we work together again."
He recently returned from London, where he was working on Woody Allen's latest film.
"He's a guy who has been in strong psychoanalysis," says Banderas. "He doesn't like games, and if he doesn't like something, he'll say, 'I don't like that, can you give me something different?'
"And I would say, 'I'll try, sir.' "
The birthday bunch
Actress Barbara Bain is 78. Singer David Clayton-Thomas (Blood, Sweat and Tears) is 68. Singer Peter Cetera (Chicago) is 65. Actress Jacqueline Bisset is 65. Actress Jean Smart is 58. Radio/TV personality Tavis Smiley is 45. Guitarist Joe Don Rooney (Rascal Flatts) is 34. Singer Fiona Apple is 32. Actor Ben Savage is 29.
Local journalism is essential.
Give directly to The Spokesman-Review's Northwest Passages community forums series -- which helps to offset the costs of several reporter and editor positions at the newspaper -- by using the easy options below. Gifts processed in this system are not tax deductible, but are predominately used to help meet the local financial requirements needed to receive national matching-grant funds.
Subscribe to the Coronavirus newsletter
Get the day's latest Coronavirus news delivered to your inbox by subscribing to our newsletter.
---
Subscribe and log in to the Spokesman-Review to read and comment on this story