News > Nation/World
Actor Patrick Swayze dead at 57
Mon., Sept. 14, 2009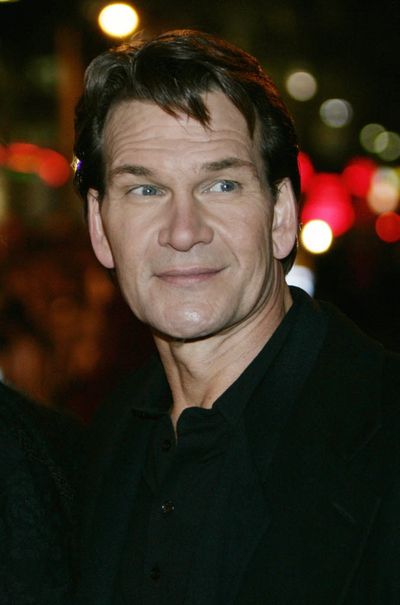 LOS ANGELES — Patrick Swayze, the hunky actor who danced his way into viewers' hearts with "Dirty Dancing" and then broke them with "Ghost," died Monday after a battle with pancreatic cancer. He was 57. "Patrick Swayze passed away peacefully today with family at his side after facing the challenges of his illness for the last 20 months," said a statement released Monday evening by his publicist, Annett Wolf. No other details were given. Fans of the actor were saddened to learn in March 2008 that Swayze was suffering from a particularly deadly form of cancer. He had kept working despite the diagnosis, putting together a memoir with his wife and shooting "The Beast," an A&E drama series for which he had already made the pilot. It drew a respectable 1.3 million viewers when the 13 episodes ran in 2009, but A&E said it had reluctantly decided not to renew it for a second season. Swayze said he opted not to use painkilling drugs while making "The Beast" because they would have taken the edge off his performance. He acknowledged that time might be running out given the grim nature of the disease. When he first went public with the illness, some reports gave him only weeks to live, but his doctor said his situation was "considerably more optimistic" than that. "I'd say five years is pretty wishful thinking," Swayze told ABC's Barbara Walters in early 2009. "Two years seems likely if you're going to believe statistics. I want to last until they find a cure, which means I'd better get a fire under it." A three-time Golden Globe nominee, Swayze became a star with his performance as the misunderstood bad-boy Johnny Castle in "Dirty Dancing." As the son of a choreographer who began his career in musical theater, he seemed a natural to play the role. A coming-of-age romance starring Jennifer Grey as an idealistic young woman on vacation with her family and Swayze as the Catskills resort's sexy (and much older) dance instructor, the film made great use of both his grace on his feet and his muscular physique. It became an international phenomenon in the summer of 1987, spawning albums, an Oscar-winning hit song in "(I've Had) the Time of My Life," stage productions and a sequel, 2004's "Dirty Dancing: Havana Nights," in which he made a cameo.
Local journalism is essential.
Give directly to The Spokesman-Review's Northwest Passages community forums series -- which helps to offset the costs of several reporter and editor positions at the newspaper -- by using the easy options below. Gifts processed in this system are not tax deductible, but are predominately used to help meet the local financial requirements needed to receive national matching-grant funds.
Subscribe to the Coronavirus newsletter
Get the day's latest Coronavirus news delivered to your inbox by subscribing to our newsletter.
---
Subscribe and log in to the Spokesman-Review to read and comment on this story