News > Nation/World
Norton faces federal probe
Justice agency eyes potential corruption
Thu., Sept. 17, 2009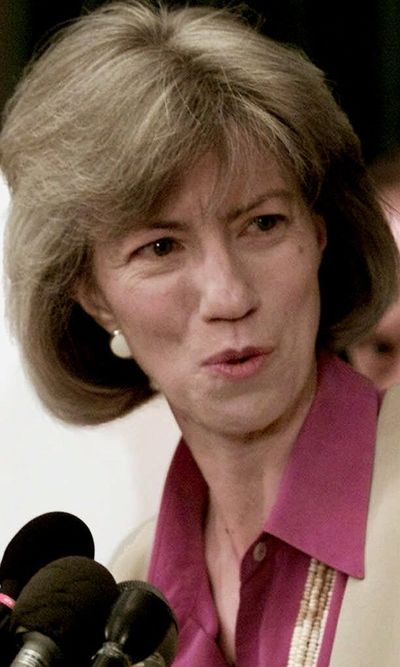 WASHINGTON – The Justice Department is investigating whether former Interior Secretary Gale Norton illegally used her position to benefit Royal Dutch Shell PLC, the company that later hired her, according to officials in federal law enforcement and the Interior Department.
The criminal investigation centers on the Interior Department's 2006 decision to award a Shell subsidiary three lucrative oil shale leases on federal land in Colorado. Over the years it would take to extract the oil, according to calculations from Shell and a RAND Corp. expert, the deal could net the company hundreds of billions of dollars.
The probe's main focus is whether Norton violated a law that prohibits federal employees from discussing employment with a company if they are involved in dealings with the government that could benefit the company, law enforcement and Interior officials said.
They said investigators also are trying to determine whether Norton broke a broader federal "denial of honest services" law, which says a government official can be prosecuted for violating the public trust by, for example, steering government business to favored firms.
The Interior Department's inspector general's office launched the investigation during the waning months of the Bush administration and later made a formal criminal referral to Justice. Norton is the first Bush official at the Cabinet secretary level to be the subject of a formal political corruption probe.
Shell spokeswoman Kelly op de Weegh declined to comment on behalf of both the company and Norton, who did not respond to numerous calls to her office.
Interior Department investigators referred the case to Justice after concluding there was sufficient evidence of potential illegal conduct, according to federal law enforcement and Interior officials.
Those officials said the referral was based on a comprehensive Interior Department investigation that included interviews with numerous Interior employees.
Norton backed development of the oil shale reserves buried in the rocks of the Mountain West.
In early 2006, following the advice of a team representing several federal agencies and states, the department said it planned to award Shell three oil shale leases. Norton resigned two months later, saying she had no job lined up. That December, Shell announced it had hired Norton as in-house counsel to a division that includes oil shale.
The Justice Department, working with Interior investigators, is looking into whether Shell received a competitive advantage or other preferential treatment from Interior in the awarding of the leases.
Local journalism is essential.
Give directly to The Spokesman-Review's Northwest Passages community forums series -- which helps to offset the costs of several reporter and editor positions at the newspaper -- by using the easy options below. Gifts processed in this system are not tax deductible, but are predominately used to help meet the local financial requirements needed to receive national matching-grant funds.
Subscribe to the Coronavirus newsletter
Get the day's latest Coronavirus news delivered to your inbox by subscribing to our newsletter.
---
Subscribe and log in to the Spokesman-Review to read and comment on this story