News > Nation/World
Obama revamps shield
Missile defense will be partly ship-based
Fri., Sept. 18, 2009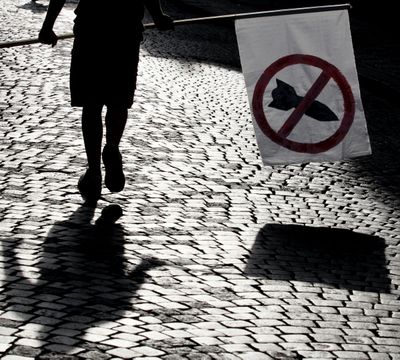 WASHINGTON – President Barack Obama's decision to abandon a Bush-era missile defense system in Europe and establish a partly ship-based shield against Iranian rockets could tighten U.S. pressure on the Islamic republic and ease a simmering rift with Russia.
White House officials said the new missile defense system is designed principally to confront Iran's emerging military might more directly, even as diplomats prepare for talks with Iran and other countries next month that the United States hopes will lead to discussions of Iran's nuclear ambitions.
Obama, in announcing his decision Thursday, said a shield based on the Navy's Aegis system will be geographically closer to Iran, will be deployed sooner, and will be more cost effective than the land-based system put forward by the Bush administration.
The abrupt reversal of U.S. defense policy immediately brought plaudits from Russian officials, who had viewed the prospect of an American missile shield system on its western border as an affront. The shift raised the prospect of greater cooperation between the two powers on containing the Iranian threat and in negotiating a renewal of the Strategic Arms Reduction Treaty, or START, which expires in early December.
"There's no substitute for Iran complying with its international obligations regarding its nuclear program, and we, along with our allies and partners, will continue to pursue strong diplomacy to ensure that Iran lives up to these international obligations," the president said in brief remarks from the Diplomatic Room. "But this new ballistic missile defense program will best address the threat posed by Iran's" missile program.
Rather than defend Europe and the United States against a handful of intercontinental ballistic missiles, military officials said they must now counter Tehran's successful efforts to manufacture hundreds of smaller, shorter-range missiles.
Plans for 10 interceptor missiles and a radar facility in Poland and the Czech Republic – a key part of military policy advanced by George W. Bush in 2006 – will be replaced by a network of smaller, more modern missiles based on ships, and later on land. Obama and his top military officials said the decision was driven by an evolving assessment of Iran's capability and intentions.
"The intelligence community now assesses that the threat from Iran's short- and medium-range ballistic missiles, such as the Shahab-3, is developing more rapidly than previously projected," Defense Secretary Robert Gates said. "This poses an increased and more immediate threat to our forces on the European continent, as well as to our allies."
U.S. officials rejected the idea of a quid pro quo with Russia, insisting that broader geopolitical considerations about kick-starting arms reduction talks or gaining cooperation on Iranian aggression had played no part in their deliberations about which missile system was better equipped to protect the region and the United States.
One senior administration official dismissed the Russian concerns about the former missile defense plans, saying that 10 interceptors were never a "strategic threat" to their country. Nonetheless, he said that the new system advocated by Obama "should be less threatening to them."
White House officials said Obama's decision followed careful deliberations that included more than 50 meetings since March and almost 100 discussions with allies, some of which involved the U.S. president and his counterparts.
Officials said both systems would cost around $5 billion over the next decade or more to develop and deploy, but they said the new approach would buy far more missiles for that money.
The move is likely to please some in Eastern Europe, who had been angered by Bush's plans for their countries. When Obama visited Prague in April, several hundred Czechs marched in the capital to decry the proposal, carrying balloons and placards, including one that read, "Yes We Can – Say No to Missile Shield."
But at home, Obama's decision sparked immediate condemnation from Republicans in Congress, who accused the administration of abandoning America's allies and putting the country's security at risk. House Minority Leader John Boehner, R-Ohio, said in a statement that the move "does little more than empower Russia and Iran at the expense of our allies in Europe. It shows a willful determination to continue ignoring the threat posed by some of the most dangerous regimes in the world."
That concern was echoed by Obama's chief rival during the 2008 campaign, Sen. John McCain, R-Ariz., who called the move away from a missile system designed to counter long-range weapons "seriously misguided."
In his briefing, Gates anticipated those criticisms, and fired back strongly. "Those who say we are scrapping missile defense in Europe are either misinformed or misrepresenting the reality of what we are doing," Gates said. "The security of Europe has been a vital national interest of the United States for my entire career. The circumstances, borders and threats may have changed, but that commitment continues."
Local journalism is essential.
Give directly to The Spokesman-Review's Northwest Passages community forums series -- which helps to offset the costs of several reporter and editor positions at the newspaper -- by using the easy options below. Gifts processed in this system are not tax deductible, but are predominately used to help meet the local financial requirements needed to receive national matching-grant funds.
Subscribe to the Coronavirus newsletter
Get the day's latest Coronavirus news delivered to your inbox by subscribing to our newsletter.
---