News > Spokane
Cantwell, Crapo call for changes in health care bill
More time needed to ensure cost control, Democrat says
Wed., Sept. 23, 2009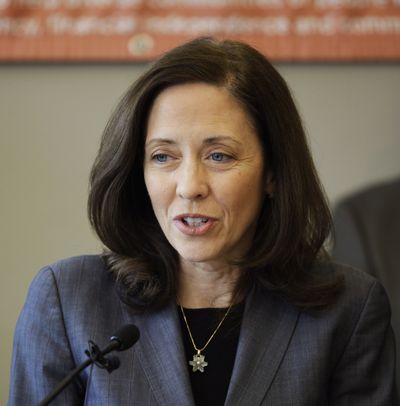 WASHINGTON, D.C. – Sens. Maria Cantwell and Mike Crapo are on opposite sides when it comes to fixing the nation's health care system, but the first day of hearings on the Senate's main reform bill gave them one point of agreement:
Without significant changes, neither will vote for it.
Both Cantwell, D-Wash., and Crapo, R-Idaho, sit on the Senate Finance Committee and represent the partisan debate over health care reform and the disappointment members of each party expressed over the process so far.
Like many Democrats, Cantwell questions whether health costs can be controlled without a public plan to compete with private insurers. A lot of time has been spent talking about extending coverage to the uninsured, which is important, but not enough time has been spent talking about controlling costs, she said.
"I'm still looking for more changes," Cantwell said in an interview Tuesday, the first day of hearings. "I think we can do a better job of controlling costs."
Crapo echoed concerns about cost control in his opening statement. The bill written by committee Chairman Max Baucus, D-Mont., may cut down federal spending, but it would cost consumers more, Crapo said. The bill would tax medical device manufacturers and high-cost insurance plans, and that would affect more than the upper class, he added.
"It's well understood that these new fees … are going to be passed right on to the consumers," Crapo said. "I don't think that's very debatable."
Cantwell got some of her priorities added to the Baucus bill, including a provision that would encourage Medicare to provide care at home rather than in a nursing home. That would reduce costs for individual patients but could drive up total costs if more people sign up for it, the Congressional Budget Office said.
Another Cantwell provision in the latest version would attempt to re-structure Medicare reimbursements so they would be tied to results rather than paying fees for individual patient visits, something she said has hurt Washington state doctors.
"It's a very complex subject," Cantwell said. "We've got a lot of work to do before we get it to the president's desk."
Local journalism is essential.
Give directly to The Spokesman-Review's Northwest Passages community forums series -- which helps to offset the costs of several reporter and editor positions at the newspaper -- by using the easy options below. Gifts processed in this system are not tax deductible, but are predominately used to help meet the local financial requirements needed to receive national matching-grant funds.
Subscribe to the Coronavirus newsletter
Get the day's latest Coronavirus news delivered to your inbox by subscribing to our newsletter.
---