News > Features
Modified yoga poses help with stretching, balancing
Tue., Sept. 29, 2009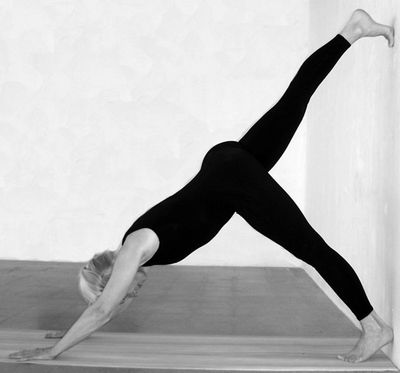 DETROIT – Many yoga classes use a wall as an occasional prop. But in Nancy McCaochan's classes, the wall is the star.
In fact, McCaochan of Royal Oak, Mich., wants to develop yoga at the wall, as she calls it, as a practice all its own.
The author of the book "Like Stanzas in a Poem: Yoga at the Wall;" (In the Company of Women, $19.95), McCaochan says the benefit of using the wall is getting a better understanding "of where your body is in space." She calls it a "conversation with your body."
"When I say turn your toes to the front of the room, maybe 75 percent of people get that," she said. "Some people will not get it. They're not turning at all, or they think their foot is straight, but it's not. That's the sort of body awareness the wall helps with."
Line up on a wall, and it's suddenly clear whether your shoulder blades are hunched. Or if your heels are aligned. It's an awareness that can carry over to regular mat work.
"A lot of people don't have the sensitivity of their own movements," McCaochan said, "so it's not until they press against the wall. Then they say, 'Ah, that's what you're talking about.' "
The poses McCaochan, 63, features in wall classes would be familiar to regular yoga practicers.
For instance, the ever-popular downward dog is called wall dog in wall yoga. Instead of bending at the waist and leaning forward with hands and feet on the floor, forming your body into a V, in wall dog you place your arms on the wall parallel to the floor. When you bend down, it becomes more of a stretch for your back and legs.
"Very often I feel the correct alignment better on the wall," said 62-year-old Ken Axelrod, from Bloomfield Township. "You come into the poses a different way. You get better stretches against the wall."
Axelrod, who has practiced yoga for four years, said he can do poses in wall class he'd never be able to do otherwise — particularly inversions, where his legs are positioned on the wall and his back or shoulders on the floor.
Debra Darvick, 53, of Birmingham, Mich., said McCaochan's classes have changed her life.
"It's the philosophy that whatever challenges are there, to work with them physically, not against them," Darvick said. "A good example is that in yoga, you get yourself centered before you extend your limbs. That's good practice in regular life, to ground yourself before you extend yourself."
And it's apparently good for the body, too. Darvick, who has been doing wall yoga for four years, said her doctor told her recently that her heartbeat sounds like a teenager's.
Local journalism is essential.
Give directly to The Spokesman-Review's Northwest Passages community forums series -- which helps to offset the costs of several reporter and editor positions at the newspaper -- by using the easy options below. Gifts processed in this system are not tax deductible, but are predominately used to help meet the local financial requirements needed to receive national matching-grant funds.
Subscribe to the Coronavirus newsletter
Get the day's latest Coronavirus news delivered to your inbox by subscribing to our newsletter.
---
Subscribe and log in to the Spokesman-Review to read and comment on this story